Toys / Comics to Toys / DCDirect
10 Years of Collecting DCDirect Action Figures: The Early Years
By Hervé St-Louis
January 25, 2009 - 09:12
The first DCDirect action figures released were based on Mad Magazine's Alfred E. Newman, the Black Spy and White Spy comic strips. DCDirect was the official regrouping of the merchandising team based at comic book publisher DC Comics. The merchandising team had been in operation for years, of course, as they were the ones that produced some early products, such as the Batman statue on a gargoyle.
DC Direct was a real testing ground for the production team. The first action figures they made had great sculpts, but limited articulations. Back then, Todd McFarlane's toy company McFarlane Toys, had convinced the industry that ragged and small action figures were not what serious collectors looking for. Six-inch action figures with sculpts closely likened with their comic book counterparts were what adult collectors preferred. To be fair to DCDirect, McFarlane toys, and other toy vendors did not offer much articulations either.
At the time, the licenses for Batman and Superman had been sold to Hasbro. Hasbro would make characters based on the comic book versions of Superman and Batman, but also on based on the popular television series such as Adventures of Superman. Hence, DCDirect had to operate and turn a profit without the benefit of its two most popular franchises.
DCDirect turned its sight on its most popular characters, next to Superman and Batman. But popularity was also defined as much by what the public knew and what was critically acclaimed. For example, the next release of action figures had Wonder Woman, the Golden Age Sandman and Swamp Thing. Wonder Woman is DC Comics' best-known character next to Superman and Batman. The Golden Age Sandman was featured in a series called Sandman Mystery Theatre and Swamp Thing had been a critically acclaimed series, since Alan Moore improved the series decades ago.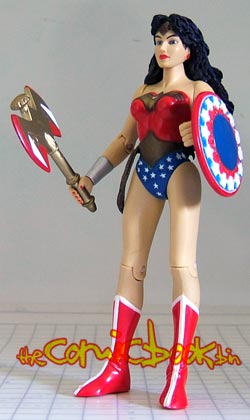 The next releases featured another mix of popular and critically acclaimed characters, such as Plastic Man, and several action figures based on Neil Gaiman's Sandman, Jerry Robinson's Starman and Garth Ennis' Preacher. While Plastic Man was not featured in his own series at the time, he was one of the few DC Comics characters to have had his own cartoon series. Sandman, Starman and Preacher were each critically acclaimed comic book series, that were about to end, hence it was quite expedient for DCDirect to release products based on these characters while they remained top of mind.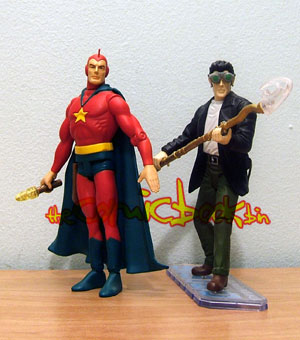 It's important to understand that at that time, DCDirect was experimenting with a product format that they had no experience with. They were making toys. Statues, which they had been producing for several years, did not involve as much knowledge of product manufacturing. Once a cast was made, several hundred copies could be replicated and painted. Toys were a different business. Figuring out what kind of plastic to use, how many articulations to cut in a prototype, how to mass produce enough quantities to generate a profit required much work, skill and knowledge.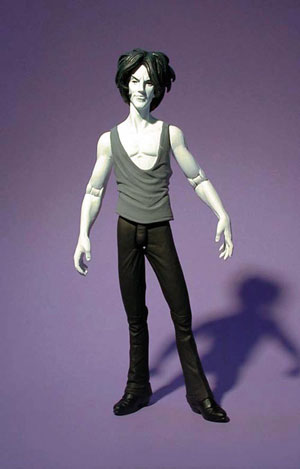 The response from collectors was also mitigated until DCDirect finally stepped up supply of super hero-based action figures. Whereas the production of action figures based on critically acclaimed series might sound like a good proposal, action figure collecting is based more on primary impulses and nostalgia, than critical taste. Action figures of Sandman, might seem cool, but it did not speak to the primary consumer base that would have made DCDirect an early success. So it's no surprise that when DCDirect introduced the Hard travelling Heroes action figure series, based on late 1960s renditions of Green Lantern, Green Arrow and Black Canary, that the line suddenly caught the interest of many collectors. I don't have actual sales figures to prove this, but I would bet that the moment DCDirect started focusing on super heroes, its sales increased dramatically.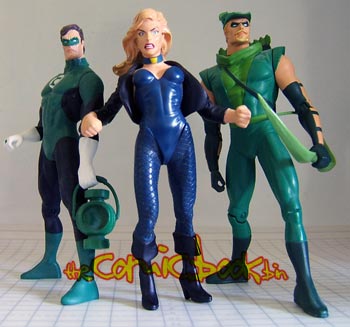 The Hard Travelling Heroes series was beautiful in terms of sculpt, but featured many of the problems many collectors would dislike later. The proportions of the characters were off with one another. For example, Black Canary's head was too large. The posing although interesting was problematic. For example, Green Arrow's torso was twisted, mimicking the pose archers take before they shout an arrow. However, his limited articulations did not allow him to be posed as if he were shooting an arrow easily. The stability of the action figures was limited. Although he was the easiest to stand on his legs, Green Lantern would still fall frequently, as he did not have a peg holes in his feet or an action figure stand to stand upon.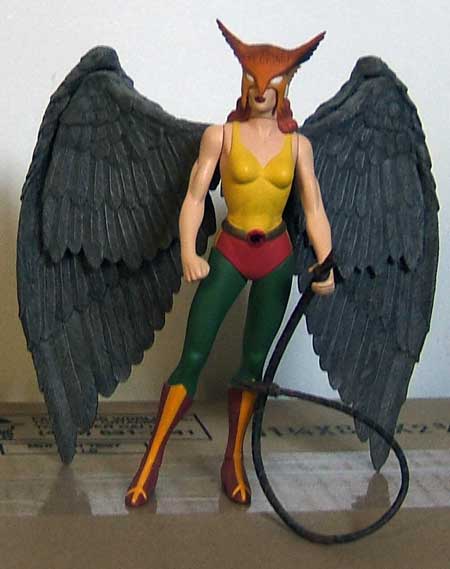 However, DCDirect continued to experiment with different character mix and action figure designs. They also increased the output of new products. Back then, in 2000, guessing what DCDirect would introduce next became a favourite hobby of many collectors. DCDirect went through its stable of characters and made action figures of many of them for the first time. Characters such as Starfire, Phantom Lady and the Golden Age Flash had never been produced as action figures. It was a thrill for many collectors to reach out and get those toys.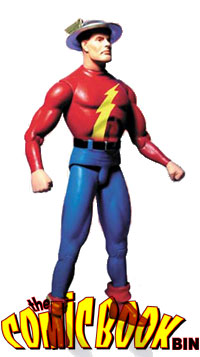 Slowly, DCDirect improved the articulation and the sculpts of its toys. Many at the time, were sculpted by Tim Bruckner. He gave the character a majestic look that that stood apart from the most canonical comic book renderings. Instead, he made them as real as possible, in the third dimension. At the time Bruckner's designs were required, because it seemed that DC Comics had never invested in developing standardized character model sheets the way Marvel Comics had. Bruckner standardized the look of many of these characters, while giving them unique faces.
All of this was was just in time for the next phase of DCDirect's history, when they would finally release Batman and Superman-based action figures. More on that next week.
Last Updated: August 31, 2023 - 08:12