Comics / Comic Reviews / DC Comics
Batman: Battle for the Cowl #3 (of 3)
By Andy Frisk
May 20, 2009 - 17:23
So, do I really have to say "SPOILER ALERT"?! Okay, I will. SPOILER ALERT! Read no further if you don't want to know, as if you couldn't figure it out on your own, who the "new" Batman and winner of the " Battle for the Cowl" is.
Of course Dick Grayson was going to take over as Batman, and as predictable as this was, as was the fact that Damien Wayne would be the new Robin (and I still believe Tim Drake will become Red Robin) there are a few little surprises or maybe we should say, twists in this issue, which are, maybe ,not for the best from a storytelling point.
It seems that Dick Grayson, former Robin and current Nightwing hasn't taken up the mantle of Batman because of "my (Grayson's) fear of failure…or because I felt it was wrong to try to replace Batman…I refused to take on the role of my mentor…because it's what he asked me to do." That's noble of Dick and all, but is he saying that he really could have just waltzed into the cave and put on Bruce's cowl, without a second thought except for the fact that Bruce asked him not to? What about the "with my whole heart NO!" Maximus type refusing to take over the Roman Empire from Marcus Aurelius being the very reason he is the ONE to do it? I guess we can say that there is still some of this type of sentiment concerning Dick's actions, but maybe not as much as I thought. Anyway, Dick is the only one who can adequately fill the role. SInce this is the case, he should have done it already, as Gotham is crashing and burning all around him, and has been since Batman disappeared.
In other news, and more potential SPOILERS, so read no further if you don't want to know….
…might we be seeing poor Jason Todd, I say poor because he should have stayed dead, wearing a Black Lantern Ring in a few months? Silly as it would be, since they could have left him dead, and he still could've gotten a Black Ring, it doesn't seem like it's out of the realm of the possible. Also, the identity of the new Black Mask isn't solved and we don't get to see Tim Drake's (the current Robin, now replaced by Damien) reaction to all this, although something has to be saved for the upcoming Red Robin series, eh?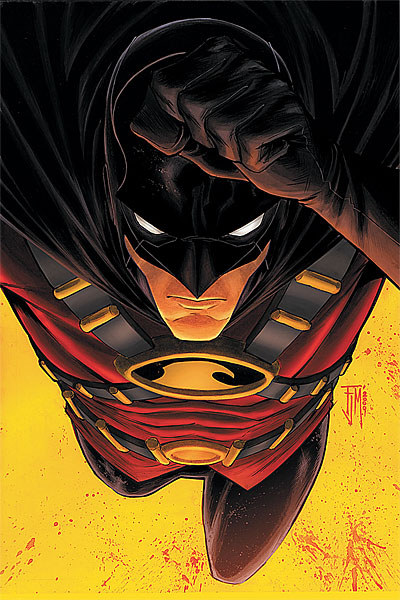 coming soon...
Daniel's pencils finish up the mini-series just like they started, very solidly. The well choreographed battle between Dick and Jason is well drawn also. The final page spread of Dick in the Bat-suit is disappointing though, since we really don't see much, but again something has to be saved for the upcoming new Batman and Robin series, eh?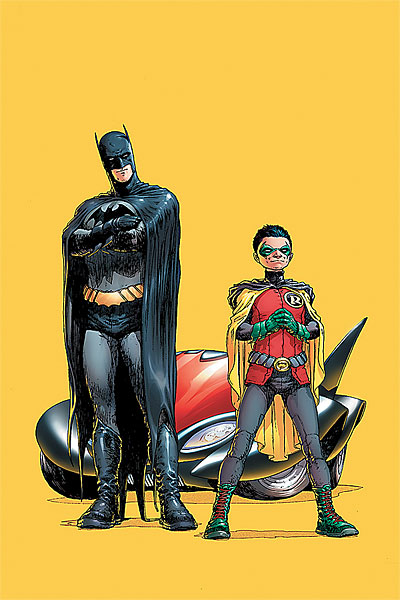 coming soon...
Overall, now that this " Battle" silliness is over, what is the state of the Batman-Family books? Time will have to tell, but putting Batwoman, a character that really hasn't caught on much with widespread readers, and her partner The Question in Dectective Comics as the leads in a ploy to recapture some of the magic of 52, is a very risky move for one of DC's longstanding flagship titles. We have to assume Dick, as the new Batman, will be the lead in Batman. As mentioned, Red Robin, most likely starring Tim, perhaps the most interesting of all the Bat-characters besides the "deceased" Bruce Wayne, as the title character, holds promise and will be worth checking out. The Outsiders will most assuredly limp along with their new cast, and Alfred at the helm. Finally, Batman and Robin will start in June. There's a good bit of interesting storytelling ahead of us but honestly, the Superman-Family titles have the Bat-Titles beat right now. They didn't have to resort to killing Superman…alright, at least not again…to create top notch tales. Again, time will have to tell how the Bat-Titles fare and if they can measure up to the greatness currently going on over in the Superman books. We'll just have to wait and see…
Rating: 7 /10
Last Updated: July 2, 2020 - 16:53