Comics / Comic Reviews / More Comics
Damaged/Hollow Point FLIPBOOK
By Leroy Douresseaux
November 28, 2010 - 20:30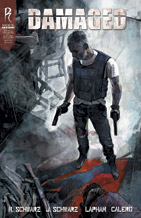 Damaged cover image
Radical Publishing has published a preview of two upcoming series as a "flipbook" under the Radical Premiere imprint. Damaged is a crime comic created by Michael Schwarz and John Schwarz of Full Clip Productions, a venture with actor Sam Worthington (Avatar).
According to Radical, Damaged focuses on "two brothers committed to justice in different ways – one inside the law, one violently beyond it." The 12-page preview of Damaged introduces Capt. Frank Lincoln, who, while investigating a slaughter of Russian mobsters, discovers that a ghost from his past may be behind the massacre.
The second preview is of Hollow Point, a crime comic created by screenwriter Ron L. Brinkerhoff (the Kevin Costner-Ashton Kutcher film, The Guardian). Hollow Point focuses on an assassin who survives a near fatal gunshot and according to Radical, "…begins to experience disturbing visions from beyond the grave. He soon realizes the bullet meant to kill him has opened a third eye into the spirit realm." None of that happens in this 12-page preview.
Hollow Point cover image
Both series are intriguing, which I think is the whole point of these "Radical Premiere" comic books – pique the interest of as many readers as possible. At the cover price of $1, readers can discover a title they might like, especially if they are fans of a previewed title's genre, for little financial risk. Radical Publishing is certainly good at genre, for instance, matching a quality crime writer with an artist whose graphic style and storytelling is ideal for crime comics.
Honestly, I will probably read Hollow Point… because I'll probably get a review copy. I wouldn't seek it out otherwise, although I am intrigued by what I read. Damaged, however, I am ready to read now (although it isn't due until next summer). It looks like a gritty, brutal, violent tale with some elements similar to The Punisher. I like how the dialogue colors some of the characters as cruel and cynical. The art by Dennis Calero is solid, but I like how Calero twists and distorts the faces and figures to embellish mood and character.
In the final analysis, Damage/Hollow Point successfully previews two new crime series that intrigue.
Last Updated: April 9, 2021 - 22:22