Comics / Comic Reviews / More Comics
Damaged #1
By Leroy Douresseaux
August 15, 2011 - 15:04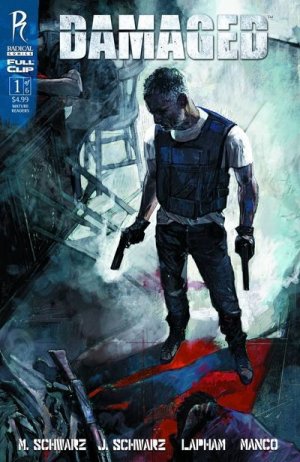 Damaged #1 cover
Damaged is a crime comic from Radical Publishing. The series is created by Michael Schwarz and John Schwarz of Full Clip Productions. Their partner, actor Sam Worthington (Avatar), is the series executive producer.
Damaged focuses on two brothers committed to justice in different ways. One is a commander with the San Francisco Police Department and works inside the law. The other is a vigilante who works violently beyond it.
In Damaged #1, Captain Frank Lincoln is three weeks from retirement, and the powers that be in San Fran have already appointed his successor as head of the Special Task Force on Organized Crime, a youngster named Lt. Jack Cassidy. A massacre at the home of Dimitri Oloaf, the most powerful man in the Russian mafiya, brings Lincoln and Cassidy together. Frank immediately recognizes that the crime scene relates to his past, and now he has to clean up the past without Cassidy or the rest of the SFPD finding out.
THE LOWDOWN: I am annoyed that Damaged seems to be in part a non-Marvel Punisher comic book. Half of the comic book is literally a police drama and the other half is The Punisher, complete with a grizzled veteran cop (the drama) and a scarred, rampaging maniac slash one-man army (The Punisher).
But I like this. I think the story's strength will lie in a kind of love/hate triangle. There is Frank trying to fend off his by-the-book successor, Jack. Frank will also have to deal with Henry, which will be a hot mess. Henry will likely have to take on the SFPD, especially Jack. Hopefully, it turns out that way, because this does have a lot of potential.
POSSIBLE AUDIENCE: Readers looking for brutal crime drama will want Damaged #1.
B
Last Updated: April 9, 2021 - 22:22