Comics / Comic Reviews / More Comics
Damaged #1
By Andy Frisk
July 13, 2011 - 14:25
Radical Publishing's first imprint, Full Clip, delivers its first book, Damaged, and ironically, (in reference to the new imprint's moniker) there's barely any full clips left by the end of the first issue of this crime drama/action tale. Set in modern day San Francisco, Damaged tells the story of two brothers who seek justice both within and without the justice and law enforcement systems. One is an upstanding and high ranking member of the SFPD. The other is a very Punisher-like type of vigilante who's own sense of justice is way outside of the law. Once the two were on the same side of the law, but a particularly violent action on the part of one caused them to diverge and seek justice through radically different means, even if their goals remain the same. Nearing retirement, Frank Lincoln might not be as through with the world of law enforcement and corruption as he wishes. San Francisco's corrupt mayor, Frank's well meaning young replacement, the Russian Mafiya, and Frank's vigilante brother Henry are all making walking away from his life's work ever the more difficult. San Francisco needs their veteran cop, but will he succumb to his brother's tactics?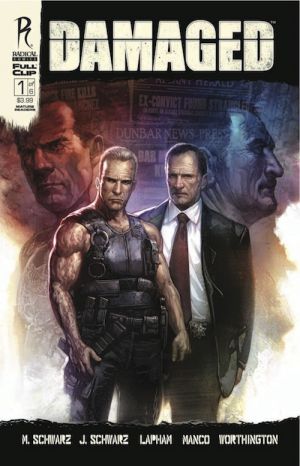 That's just one of the many plot threads and well developed characters created by Michael Schwarz and John Schwarz and flushed out by writer David Lapham (
The Young Liars
). Crime drama/action stories are literally a dime a dozen, and in order to stand out from the crowd a new crime drama/action tale must have strong and well developed, or at least well flushed out characters. While Frank and his brother Henry seem rather archetypical in nature, several subtle hints are dropped that some surprises regarding their characterization might develop over the next few issues. Lapham is a master at developing characters so some solid characterization is most likely awaiting the readers of
Damage
.
Another thing that Lapham is a master of writing is a good ole' fashioned action scene, and
Damaged
#1 is chocked full of them. Artist Leonardo Manco (
Hellblazer: All His Engines
) brings these scenes, along with the more quiet character development scenes, to beautifully realistic life. Manco has an excellent eye for facial nuance, body language, and realistic detail. All of which makes him an excellent choice for this cinematic like work.
It will be interesting to see where the story takes the brothers.
Damaged
is slated to run for a total of six issues, which is a little longer than most of the earlier Radical series, but has become more commonplace of late with series such as
Earp
and
Abattoir
. If you liked
Earp
, or any of the many Michael Mann crime dramas like
Collateral
,
Heat
, or
Miami Vice
, then
Damaged
is for you.
Rating: 8 /10
Last Updated: April 9, 2021 - 22:22