Kekkaishi: Volume 16
By Leroy Douresseaux
February 13, 2009 - 21:21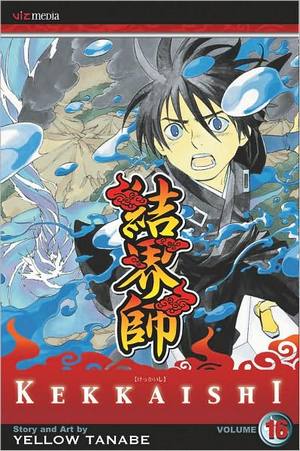 Kekkaish 16 cover is courtesy of barnesandnoble.com.
Rated "T" for "Teen"
By day, 14-year-old Yoshimori Sumimura is just a student, going to high school with his pretty 16-year-old neighbor and friend, Tokine Yukimura. Both Yoshimori and Tokine are kekkaishi (the word means "barrier master"), demon hunters that specialize in creating magical barriers around their prey, especially the natural enemy of the kekkaishi, a race of demons known as the ayakashi. Both of the teens' families fight over which of the two will be a true practitioner of the art of the kekkaishi.
Kekkaishi, Vol. 16 opens with Karasumori, the site that Yoshimori and Tokine's families protect, under attack by an ayakashi. The incident draws the unwanted attention of the Shadow Organization, and its leader promptly warns Yoshimori's brother Masamori that he must get the site under control before it becomes a danger to the normal human population. Meanwhile, Yoshimori finds himself fending off the advances of an aggressive older girl named Julia Roppongi, who wants Yoshimori to be her boyfriend. Next, a long-absent member of the Sumimura clan returns with a whale of a surprise.
THE LOWDOWN: The superb Kekkaishi is certainly entertaining enough to be mentioned alongside the popular manga found in Shonen Jump magazine. Kekkaishi offers the kind of shonen (boys' comics) fun found in such "superhero manga" as Naruto and Bleach. Also, its setting, plot, and some of the characters have distant similarities to Harry Potter. American readers may also be surprised to find similarities in the art of creator Yellow Tanabe to Steve Ditko, in everything from characters' facial expressions, composition (particular in figure drawing and figure posing), and visual concepts. I dare say that Tanabe's Kekkaishi and Ditko's Doctor Strange are foreign cousins.
POSSIBLE AUDIENCE: Fans of VIZ Media's "Shonen Jump" line of manga will enjoy Kekkaishi, which isn't part of the line.
A
Last Updated: June 23, 2021 - 00:45