Kekkaishi: Volume 12
By Leroy Douresseaux
February 18, 2008 - 13:06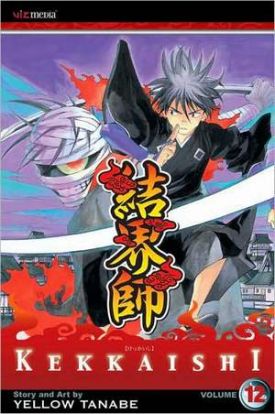 Thanks to barnesandnoble.com for the image.
By day, 14-year-old Yoshimori Sumimura is just a high school student, but by night, he is a kekkaishi (the word means "barrier master"), a demon hunter that specializes in creating magical barriers around his opponents. The natural enemy of a Kekkaishi is a race of demons known as the ayakashi.
As Kekkaishi, Vol. 12 begins, Yoshimori, who was a hostage in the Kokuboro ayakashi impenetrable fortress, is free, and is searching for Kaguro, the ayakashi that killed his friend, Gen (back in Vol. 10). However, some of ayakashi present at the fortress are at war with each other, but even with the stakes this high, Yoshimori is determined to avenge his friend, even if it means facing a psychotic ayakashi killer who dresses in human skin.
THE LOWDOWN: If Doctor Strange, Frank Miller's Daredevil, and Naruto were blended together, the result might be something like the superb shounen manga series, Kekkaishi. A friend of mine, a hyperactive teen, used to refer to his favorite action-oriented entertainment as "kick ass." Reading Kekkaishi is certainly like getting a kick. With his superb cartooning skills and penchant for composing volatile action scenes and fiery single images, manga-ka Yellow Tanabe is indeed kicking butt.
POSSIBLE AUDIENCE: Although not part of VIZ Media's "Shonen Jump" line of manga for young male readers, Kekkaishi will entertain that same audience, as well as readers looking for a great supernatural action series.
A
Last Updated: June 23, 2021 - 00:45