Kekkaishi: Volume 13
By Leroy Douresseaux
May 19, 2008 - 15:59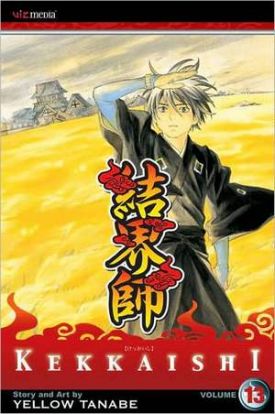 Thanks to barnesandnoble.com for the image.
Rated "T" for "Teen"
Fourteen-year-old Yoshimori Sumimura is, by night, a kekkaishi (the word means "barrier master"), a demon hunter that specializes in creating magical barriers around his opponents. The natural enemy of a kekkaishi is a race of demons known as the ayakashi. By day, Yoshimori is just a student, going to high school with his friend and rival kekkaishi, Tokine Yukimura.
Kekkaishi, Vol. 13 begins with Yoshimori battling the gruesome-looking ayakashi, Kaguro, who killed Yoshi's friend, Gen. As Kokuboro Castle, the home of the ayakashi organization Kokuboro, disintegrates around them, Kaguro offers Yoshimori the opportunity to go over to the dark side.
Later, Yoshimori returns to high school in time to clash with the prank-playing wandering spirit, Kiyoko, and she has a big secret to share with the reluctant Yoshimori. Next, a belligerent and arrogant young stranger named Takeshi Kongoh wanders into town, looking for revenge, but the object of his hate is right on his tail. Worn out and wounded, this so-called "master sealer" will need Yoshimori on his side.
THE LOWDOWN: The imaginative fantasy, fight comic, Kekkaishi never ceases to amaze. The visual brilliance in creature and monster design that manga-ka Yellow Tanabe displays usually comes from Hollywood effects masters at ILM, Weta, Disney, etc. or from filmmakers like Guillermo del Toro and Miyazaki. Tanabe's brilliant work will also remind manga readers of the work of Tite Kubo and the Kishimoto brothers.
POSSIBLE AUDIENCE: Although not part of VIZ Media's "Shonen Jump" line of manga for young male readers, this superb title would fit in with best shounen titles.
A
Last Updated: June 23, 2021 - 00:45