Black Cat: Volume 20
By Leroy Douresseaux
April 26, 2009 - 06:09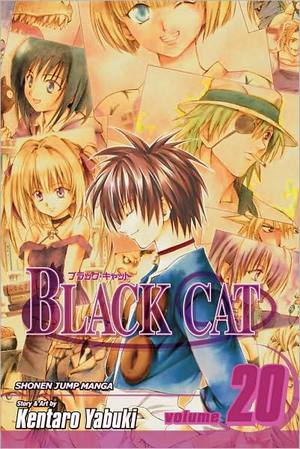 Black Cat Volume 20 cover image is courtesy of barnesandnoble.com.
Rated "T+" for "Older Teen"
Train Heartnet, AKA "Black Cat," gave up his life as a ruthless assassin for the secret Chronos organization in favor of the easygoing life of a bounty hunter or "sweeper." He partners with fellow sweeper, Sven Vollfied; the thief-for-hire Rinslet Walker; and Eve, a living weapon created in a nanotech lab. Together they pursue Creed Diskenth, the villain that killed Train's dear friend, Saya Minatsuki.
The final volume in the series, Black Cat, Vol. 20 (entitled, A Carefree Tomorrow) finds Train in a face off against Creed. Claiming to be both immortal and unstoppable, Creed has fused his body with his incredible Imagine Blade. Train is determined to take Creed alive, but how can he subdue a man who has seemingly become indestructible? The Black Cat's luck may have finally run out.
THE LOWDOWN: Some of its characters, concepts, and/or elements make Black Cat similar to the classic Chris Claremont-John Byrne X-Men, Warren Ellis' The Authority, and Wanted (both the Mark Millar-J.G. Jones comic book and the film adaptation). Black Cat is also quite similar to other shonen manga fight comics like Naruto, Bleach, Kurohime, etc., with imaginative character design and thrilling fight scenes. In fact, one of the more impressing things about VIZ Media's "Shonen Jump" titles is that the fight and actions scenes are as bracing and awe-inspiring as what big budget, Hollywood special effect movies offer. Considering that these manga (like all comics) are composed of still images, that's amazing. To the end, Black Cat delivers that kind of good stuff.
POSSIBLE AUDIENCE: Regular readers as well as casual fans will want to return for the end (for now…) of Black Cat.
A-
Last Updated: June 23, 2021 - 00:45