Black Cat: Volume 10
By Leroy Douresseaux
August 27, 2007 - 14:03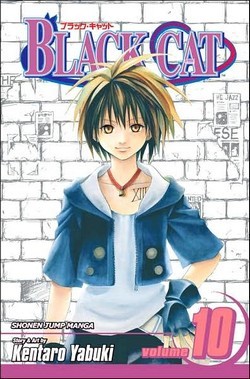 Thanks to barnesandnoble.com for the image.
Black Cat
, a shonen (boys') manga by
Kentaro Yabuki
, follows the adventures of
Train Heartnet
(also known as "
Black Cat
") a former assassin for a secret organization called
Chronos
. Train left that life behind and became an easy-going "
sweeper
," a bounty hunter, and takes on a fellow sweeper,
Sven Vollfied
, as a partner. Joining them is the sexy thief-for-hire,
Rinslet Walker
, and
Eve
(also called "Princess"), a living weapon in the form of a young girl, created in a nanotech lab.
Train is seeking vengeance against Creed Diskenth, a rival who killed a friend of Train's. However, Creed would like Train to join as one of his followers, the Apostles of the Stars, an adversary of Train's old outfit, Chronos. Black Cat, Vol. 10 finds Creed plotting to murder Sven as a way to get Train to relent and follow him. Meanwhile, Kyoko, a member of the Apostles of the Stars gets a huge, high school-type crush on Train, who is undergoing some youthful growing pains of his own.
THE LOWDOWN: In spite of a seemingly violent premise, Black Cat is like an easy going version of Bleach, but with guns and heavy artillery added to the supernatural weapons and mystical fighters. Of course, Black Cat has a huge ensemble cast that Kentaro Yabuki exploits to create a joyful jumble of motivations and backstabbing.
What's the biggest surprise about Black Cat? It's how playful and comedic it is. The bonds of relationship between the characters are strong, and the good guys always have time for good natured ribbing. This makes for a strange manga. On one hand, the action tilts towards older teens, but on the other hand, Kentaro has presented intimate moments that are tween-safe.
POSSIBLE AUDIENCE: This is part of VIZ Media's "Shonen Jump" line, and while it may not be age-appropriate for the entire audience that reads the Shonen Jump magazine, probably all of its audience will like Black Cat.
B+
Find a black cat at the Amazon aStore.
Last Updated: June 23, 2021 - 00:45