Comics / Comic Reviews / DC Comics
Young Liars #9
By Zak Edwards
November 15, 2008 - 16:37
So I don't know if David Lapham was reacting to some of the more negative reception at the last two issues of Young Liars (not from the Comic Book Bin, but elsewhere) or if he planned this issue as it is all along. But I can tell you, Lapham is backtracking a little this issue, explaining the last two issues in detail as to make sure the readers are all on the same level. The crazy all out dream sequences of the last issues were very, very out there and it is nice to be back on more normal terms this issue, even if normal for this series is still crazier than most other comic books out there. The usual caution: Young Liars is intended for a mature adult audience, the smaller comic book lovers are not supposed to read this. It has profanity, violence, drugs, sex, and pretty much anything else someone may find offensive.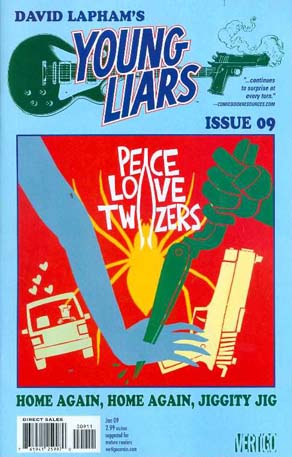 Like I said, this issue is basically dedicated to David Lapham spelling things out for his lost readers. Many were very confused on the comic book's sudden shift from absurdity to downright messed up, LSD rantings. With lines like, ""I mean, I knew the Spiders from Mars were a metaphor" makes me feel stupid. Of course they're a metaphor, I don't think anyone believed what was going on was actually in reality. But some of Lapham's other revelations into what he was doing are useful for the story. And that's another thing, the series has a purpose again, Sadie has a mission and Danny and their new found English friend Puss Bag(with a phonetically written accent that distracts just as much as it adds) are along for the ride. The mission is taking her through her origins, and if half of what Lapham has revealed about Sadie's past is correct, we're in for one hell of a story arc. While I'm always excited to see a new issue of Young Liars on the shelf, I think I'll be more excited now to see Danny, one of the most morally confused and corrupted characters I've encountered, Sadie, the most literally amoral character in comic books, and Puss Bag, well you have to just meet him, on their adventure.
Lapham's art does the trick. He proved in the last two issues his pencils can handle anything, be it giant women giving birth to spiders or anything else his mind can come up with. But his pencils are beginning to depict his characters even better. The first panel of the issue shows Sadie as being drop dead gorgeous, something I wasn't expecting as I've become more familiar with his work. But his art remains expressive with just enough realism to create characters that at least look realistic, even if inside I hope they aren't.
9/10 For those turned off by the last two issues, time to get back on. But new readers need to start at square one, which is highly recommended.
Last Updated: June 23, 2021 - 00:45