Comics / Comic Reviews / DC Comics
Young Liars #11
By Zak Edwards
January 20, 2009 - 22:32
It's funny, despite the series being called "Young Liars," I have never actively read David Lapham's series, which is basically about terrible people being terrible to each other and those who accidently come near them, as a story with an unreliable narrator. But this issue has kind of slapped me in the face, and it makes sense protagonist Danny is lying, not only about the past, but also about the present. All the characters are lying to each other, to the reader, probably to Lapham himself. But the series, after its coma-fantasy sequence a few months ago and origin issue for one character last month, is back to its main story, and seemingly back on track, if it ever got off it. Young Liars is a series filled with sex, violence, drug abuse, incest, nudity, the list goes on and on. So buyer beware, if you are easily offended or one of those people who say they aren't easily offended and actually are, this series is not for you.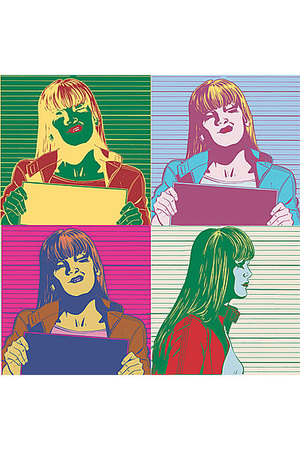 Lapham breaks another wall of what is reality and what is the internal fiction of the world of Young Liars. The Spiders from Mars, which have been mentioned steadily since the third issue (by a Sadie who was previously exclaiming her need to dance because she has "the happy feet"), may actually be real. Well, if coming out of a man's mouth and speaking can be considered existing. Of course, the issue ends with "Next: The Spiders from Mars Part Two," which is the name of issue number 7, so the narrative continues to collapse. The story is very much an experiment with something only comic books can really do nowadays, serial fiction. The narratives of serial fiction have been, and generally continue to be, very linear and purposefully easy to jump on and off of. But Lapham has created a comic book which started out with a fairly traditional narrative, telling a whole and complete story and an origin issue for good measure, and is now rejecting many of these generally accepted conventions. If issue seven is seen as the beginning of this 'arc,' then Lapham has given us a dream sequence issue, an issue by an unknown (and crazy) narrator, a fairly normal issue, an origin issue, and now an issue which honestly causes serious doubts about the credibility of the comic book's abilities as a narrator. The experiment is frustrating at places, certainly irritating many times as well, but its intelligence, depth, and willingness to experiment far outways any other feeling. Young Liars is a challenge, but one I feel will ultimately be rewarding. Lapham has created a comic book series that demands to be engaged, the casual reader will only feel unfulfilled, with the rewards of the series are only found through careful reading.
Lapham's art really aids in his processes in many ways. It's expressive, certainly, in terms of conveyance of emotion, and the extreme emotions of the series really come out in his work. His action sequences are always at the high point of action, creating a lot of chaos and excitement in the scenes. People are thrown around, blown up, hacked apart, and many other violent things in high energy ways. And all the crazy things he comes up with are easily handled in his art, the dream sequences differentiate themselves immediately from other points of the story through colour and shading, as do the flashback sequences. Lapham's art is highly communicative, which can be seen as either a relief or ironic, depending on your views of the story.
8/10 Continues to experiment and perform without worrying about things like people's reactions.
Last Updated: January 24, 2022 - 11:00