Comics / Comic Reviews / DC Comics
Young Liars #2
By Zak Edwards
May 26, 2008 - 01:29
The second issue of Young Liars plays a clever trick, lulling readers into a false sense of security before the final shocking pages tears down all the perceptions of what this comic book was trying accomplish. The issue reads like a song, a punch at the beginning and a killer outro, with a calming, meaningful bridge; the thought bubbles that act as lyrics for this song work to drive it home. The graphic ending is a surprise despite the rampant sex and suicidal thoughts (and graphic depictions) of protagonist Danny Noonan, perhaps because, unlike the last issue, there is a definite lack of violence and other, more extreme behaviour.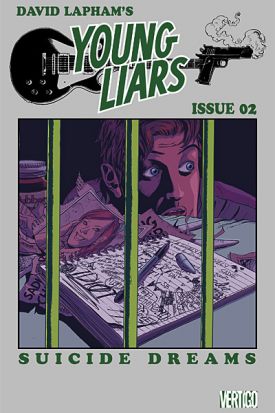 Indeed, there is a definite lack of the antics of Danny's friends in the future, which helps to ground the series and also allow for a very interesting potential for the story of how a kid like Danny becomes what he is in the first issue. This origin story of sorts is filled with musical tidbits that add to the experience in a very cool way. The issue opens with a poster of Kurt Cobain and bands like The Doors, The Grateful Dead (or Greatful Dead in this case), And You Will Know Us by the Trail of Dead, and Spoon are scattered throughout the issue. This comic book should come with a soundtrack, or at least a track list. But the story itself follows Danny in his continued passive stance through life, having things happen to him without really taking action himself until he makes some very stupid decisions in the name of love for a sheltered daughter of a millionaire, Sadie Browning. Sadie, the amoral girl last seen biting people's noses, has a different attitude and priorities, and watching her get from this issue to the present will be interesting as well. This issue sets the stage for some great storytelling much more than the last issue, which was attempting for some shock value to keep readers coming back. Overall, this issue left me looking forward to the next issue much more than the first one.
David Lapham's pencils are once again clear and effective for the story. One thing he should be praised for is his depiction of characters loking like human beings rather than disproportionate Barbie dolls. Every character looks as if they could exist which is a welcome relief to much of the art out in comic books. The bands and music laced throughout the artwork, as mentioned above, is another level to the experience, something that had me going back to the first issue to find some more music to get. This comic book is beginning to cost me more than the three dollars a month in records, some of which are impossible to find!
7.5/10 This issue helps to ground the series and provides a great launching point for the future.
Last Updated: July 2, 2020 - 16:53