Comics / Comic Reviews / Marvel Comics
The Amazing Spider-Man #566
By Geoff Hoppe
July 18, 2008 - 21:36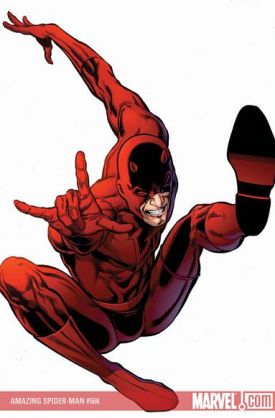 The Noid looks pretty good...

In The Amazing Spider-Man #566, Vin Gonzales (Peter Parker's roommate) lands in an S&M freak's dream come true, rodent-like Vermin makes a comeback, and Peter Parker sashays around New York in Daredevil's costume. And yet…the whole experience feels awfully tame.

As #566 opens, Vin Gonzales is bloodied, chained up, and wearing Peter Parker's Spider-Man outfit (the third brought on the first two). His comic-con fetish fest is being perpetrated by a psychotic platinum blonde chick who's apparently the latest emanation of Spider-Man villain Kraven. Meanwhile, Peter Parker searches in vain for his missing roommate, and, thanks to a costume loan from Matt Murdock, straps on Daredevil's red tights and leaps into action.

What gets me about this issue is its bellicose brinksmanship. There are plenty of images of torture—stabbing, biting, blood/drool flying from orifices, etc.-- but they're always shown in shadow, or just off panel. The resultant comic feels like a second-rate mixture of Hostel and those scenes in the Austin Powers movies where strategically placed bottles and potted plants obscure Austin's naughty bits. So…what's the point, writer Marc Guggenheim? Are we supposed to enjoy #566 for the sadism? Because we don't see enough of that. Is it for the story? Because the violence sort of is the story…oh well. At least it's tame enough that I don't need my parents to buy it for me, and in the end, that's what matters most to the coveted males 13—34 demographic.

The art, with "breakdowns" by Phil Jimenez and "finishes" by Mark Pennington, isn't bad. Jimenez's close attention to detail benefits from Pennington's more relaxed approach. The creepy sewer-setting of Gonzales' torture opts for realism instead of overbearing gothicisms, which is also good.

Worth the money? Sadly, Amazing Spider-Man #566 is one eyeball plucking short of an X-rating. So no.
Last Updated: June 23, 2021 - 00:45