Review: Super Mario Maker
By Sean Booker
September 17, 2015 - 15:00
Super Mario Maker is all of the side scrolling, original Mario you could ever want. The amazing breadth of customization you have access to is something rare with Nintendo. By using elements from four different games you actually learn a good deal of level design yourself. Even if creating isn't your thing, the amount of content that others have put out, and that the game has set up for you is huge. This game is easy to use, a ton of fun and any Mario fan will truly love this game.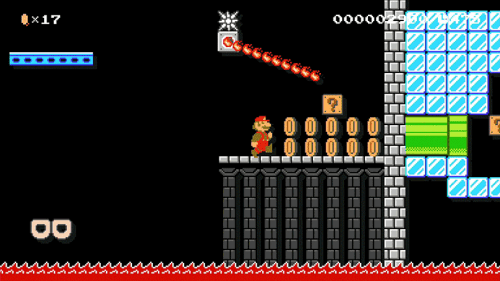 The classic, side-scrolling Mario is basically a series that everyone knows. It is the building blocks of the platformer genre and Super Mario Maker allows you to rework those blocks into almost anything you could imagine. The game features four different art styles from Super Mario Bros., Super Mario Bros. 3, Super Mario World, and New Super Mario Bros. Elements from these games will even work backwards into the older art styles to allow features from later games to be used despite not being introduced until years later. These combinations can really allow your imagination to soar.
The game forces you to create stages in order to unlock more tools to use. This game feels easier to use than any other game with a level editor because Mario is so ingrained in our culture; everyone is familiar with it. Since a recent update, every fifteen minutes in the level creator will push a new delivery of objects you can incorporate into your stage. This does a good job of limiting your options so not to overwhelm new players. It allows you to get comfortable with some of the basic Mario elements before the more rare aspects can be used.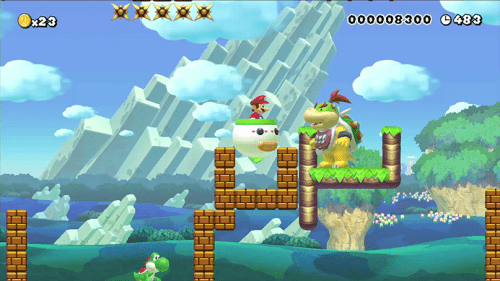 When having an idea for a stage and beginning to implement it, the stagnated introduction of tools will constantly have you reworking and improving your level. Creating a suitable area can suddenly need an adjustment when a better object becomes available. This makes the player really think about the level design process that goes into a Mario world. The game teaches you why certain blocks need to be where they are and why coins and power-ups become necessary. I even found myself learning lessons and having to remake an entire stage in a different block type in order not to allow others to find a weakness. Super Mario Maker intuitively teaches you how to properly design a level while you play.
What is really special is just how much freedom you have from a company known to keep their games close to the chest. Being able to put dance music and record your own audio into a Mario stage seems like something from a hacked emulator online. You can even mix up how the power-ups change Mario. For example, getting a mushroom won't make you larger, but will instead turn you into an 8-bit Wii Fit Trainer. In fact, using any amiibo will unlock new costumes and audio cues for you to use and share online with others. It is crazy to think that a Nintendo game would allow you to alter the company's core franchise so heavily.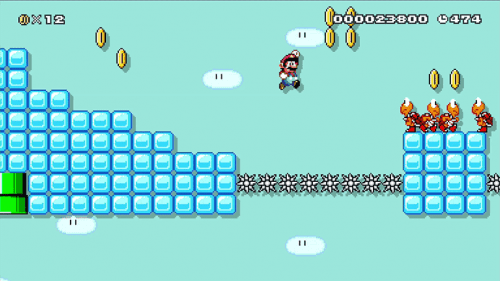 If creating a stage isn't your forte there are several other modes you can play around with. Every time a new set of tools is unlocked the game will offer up a course for you to play through that utilizes the additions. You can also play through a number of computer generated courses in order to further see how this game plays with the core Mario elements. And of course you can play any number of player created stages online. There's even a mode that will string together a sequence of user uploaded levels (based on their difficulty and success rate) for you to play through in one go. There's a lot to discover and unpack here.
Playing the user created stages is easily one of the highlights to this game. There is an almost unlimited number of levels to play through that all mix up the Mario formula. Seeing how others have interpreted or mixed these classic components together is definitely special. This will even reveal new ideas for you to try out back in your own custom levels. You are able to track specific creators and get notifications when they upload new stages. When dying in a stage you can see where others have fallen. There is a great level of interconnectedness with the online play here.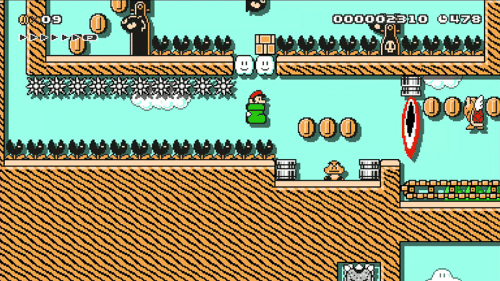 Super Mario Maker is a very special game that almost feels like it should not be possible. The amount of content here and incredible ways you can remix them is fantastic. The level creation feature is implemented wonderfully and makes it easy for anyone to pick up and work. You can easily make the stage of your dreams and, most likely, incorporate components you never even thought possible. Not only does the game teach you to create in such intuitive ways, but playing another person's stage will further boost your imagination. This game is easily for anyone and will guarantee and fantastic time.
Rating: 10 /10
Last Updated: June 23, 2021 - 00:45