Review: Super Mario 3D World
By Sean Booker
November 27, 2013 - 11:11
It seems that Nintendo was set on making 2013 memorable for its company and it enters the holiday season with easily one of the best games we've seen from them on the WiiU with Super Mario 3D World. The team that brought us the Galaxy games and 3D Land continue their incredible streak of the best Mario games with this overly fun platformer. The amount of variance and creativity found throughout the game will have you hooked as each stage will differ greatly from anything you saw before. This game is a delight from start to finish and easily one of the best games this system has seen.

The gameplay you'll experience is very similar to Super Mario 3D Land on the 3DS with its mix of open and side scrolling environments. The levels themselves are the big highlight to this game when you look at just how different and creative each one ends up being. Despite having the same themed worlds you would expect, each level within will stray far from the motif. Instead of eight desert stages in the second world you will get to play through a series of theme parks, food items and much more that are placed over the backdrop of each world's individual concept. This allows the variety of ideas to explode and the developers do just that. There are so many really stand out stages that it would have been nice to see some way of singling them out in order to return to your favorites. Considering the huge number of levels in this game, there will definitely be a handful of choice picks from everyone.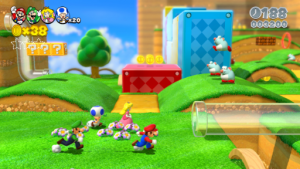 The biggest addition that 3D World brings is the inclusion of different abilities for each of its playable characters. Each character will have their strengths and weaknesses. It allows for some great fun when playing the multiplayer. It's sad that we still can't play online with others but any online lag would severely hinder your performance. Being able to choose between different characters is also useful when running up against the many different types of obstacles throughout the game. Peach's gliding ability definitely helps out but Toad's incredible speed can also come in handy from time to time. Learning how each character works best will definitely help you progress.
Each stage will have three green stars to track down, much like the giant coins from before. Collecting these are crucial since you won't be able to progress past the end of each world without reaching a certain amount. It adds a nice level of difficulty to the game since the later worlds will have high goals that may cause you to have to double back for more hunting. 3D World also adds a stamp in each level to find that can be used when creating MiiVerse posts. These posts will show up at the end of each stage from everyone who has created one upon completion. You can comment on each post or simply give it a "Ya!" if you so desire. A lot of these collectables will require specific powers or characters to attain which creates some good replayability. There's a lot of hunting to be done and if you want to make it all the way to the game's end you will have to really try.
Online players also come into play by adding in three ghost replays when you return to a previously completed stage. This will show another person's Mii running through the level how they previously did while you play along side them. They won't interact with what's on your screen but they can lead you to secrets and give you ideas you may not have come across. Sometimes the other Miis will even have presents trailing behind them that you can run into to get power ups. It's a fun addition that can really help out with all the collecting you will want to be doing.
One of my favorite parts are a new stage type where you play as Captain Toad that pops up every so often. These play very differently than your usual platforming levels and almost function more as puzzles. Captain Toad cannot jump so your goal is to walk him throughout the level in order to collect the five green stars inside. The area he inhabits will be a cube and you will have to rotate the camera around it in order to get the correct view as it doesn't follow your character as you would expect. You will have to time when Toad moves and make sure you're looking at every angle before proceeding. These stages are a lot of fun and it's just a shame that they're so rare to come by.
It may be easy to overlook when you're playing along with your buds but 3D World also contains a really great soundtrack. There's a lot of remixed classics that have been slotted into some great locations and a lot of great new songs as well. The score ranges from your upbeat standard tunes to some much more serious genres when in a boss fight or taking on one of Bowser's castles. The fantastic visuals and level design is deeply enhanced by a great sound experience.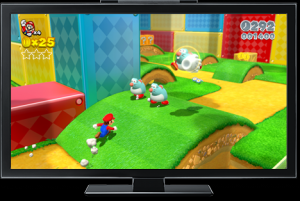 Super Mario 3D World is a fantastic game for any WiiU owner to have come out for this holiday season. The game's world and level designs are whimsical and incredibly diverse. It's a blast playing solo but getting some friends together will greatly improve the experience and this level of enjoyment is only improved with the game's great visuals and music. There is a lot of content to be played through and everyone is sure to come out of it with a set of favorite stages. You'll be coming back to this game for a while and that's why it is easily one of the best games the WiiU has to offer.
Rating: 10 /10
Last Updated: April 9, 2021 - 22:22