Review: New Super Mario Bros. 2
By Sean Booker
August 19, 2012 - 20:40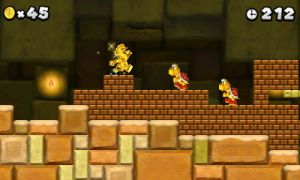 It may only be a little under a year since the last
Mario
platformer came out for the 3DS, but
New
Super Mario Bros 2 (NSMB2)
comes with enough meat on its own to warrant your time and money. This comes as a direct sequel to the DS and Wii games before it of the same "
New
" series of Mario side scrollers and the gameplay is quite evident of that. You'll jump on enemies, throw the occasional fireball and collect coins while saving the princess. And though these components are very familiar,
New Super Mario Bros 2
stands as a great platformer.
Your main objective is rescue the princess that has recently been kidnapped. In attempt to save her you'll venture through a number of different world filled with numerous stages and bosses. This format is customary to a platformer. Unlike
Mario
games similar to
Super Mario 3D Land
or
Mario Galaxy
, where the levels were more open and you could move through a 3D environment;
NSMB2
is strictly a 2D side scroller where you can only move left and right on a flat plane.
The game handles real nicely as Nintendo once again shows why
Mario
is deemed one of the best designed platformers out there. The tight controls are evident as you will come across a number of different enemy and obstacles found in the differing stages. Some areas will require you to adapt to icy floors, falling platforms, and the usual underwater levels. It is however unfortunate that the boss fights that you encounter are extremely easy the whole way through. And though the majority of the game does seem fairly easier than past
Mario
iterations, the number of diverging paths, hidden exits, and even secrets worlds will require a good deal of time for you to sink into
NSMB2
.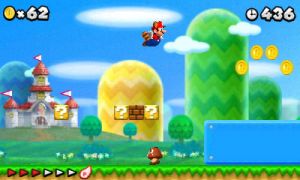 The biggest difference (and addition) that
NSMB2
has over its predecessors is the amount of coins you will have available to collect. The game starts off by challenging you to collect a total of one million coins. Everything you do in the game, whether playing alone or with others, will add up and a coin counter will appear in the corner informing you of your current total and you progress. Though this does give you more incentive to collect the shiny objects, there is no real reason to - story or otherwise - besides reaching that end goal. And it is a far off goal indeed as I found myself only collecting around one to two-hundred on each level; completing the main game had me at around 11,000.
I should point out that the game features two player local co-op if multiple game cards are available. I didn't have access to another player and wasn't able to try out this game mode.
One very nice use of the 3D effect from the 3DS is the way it handles the backgrounds of each stage. Since the game is entirely seen on a 2D plane, there isn't a ton to do in terms of separating objects in the foreground from the background. Instead, when the 3D slider is turned fully on, the backgrounds becomes blurry in order to create a much better depth of field. This way you aren't just seeing space between the character and the wall, you're actually getting a good sense of distance.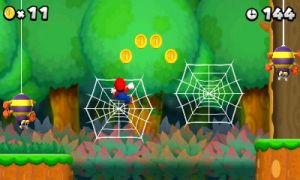 New Super Mario Bros 2
also supports the 3DS's StreetPass option in a mode called Coin Rush. This mode pits you against three random stages from the main game but filled with many more coins and a much tighter time limit. Your goal is to finish the levels with the most coins possible and that score is what is transmitted to other players.
Mario
games (and platformers specifically) are always great to see on any Nintendo system. Each comes with an insured level of quality that always holds up; and though it may have been a short time since we last saw a
Mario
platformer,
New Super Mario Bros 2
stands as a fine addition. The visuals are just as bright and colorful as always and the game uses the 3D effect quite intelligently. And apart from having an easy time going through the core game, the additional stages and secret worlds have easily left me with enough game to go back to. I just hope we don't get one of these every year as I fear I might soon become a little tired of them.
Rating: 8 /10
Last Updated: April 9, 2021 - 22:22