Comics / Comic Reviews / DC Comics
Final Crisis #3
By Geoff Hoppe
August 6, 2008 - 16:09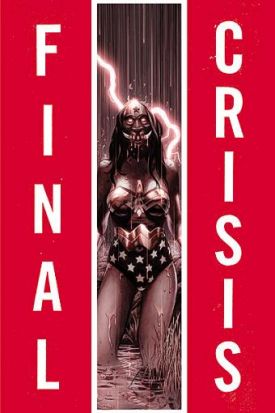 and she's single, fellas!

Admittedly, I've stepped into Final Crisis midstream. But with DC Comics' various crises, deaths-ofs, and sprawling mega-plots, it's hard not to enter any of their titles midstream. The attendant sense of bewilderment attached to DC Comics' numerous Count Downs and 52's is still present in Final Crisis #3, a comic so random it would benefit from using the Benny Hill theme song as a soundtrack.

The Obligatory Warning: mummified bodies, a gruesome beheading or two, and a picture of the Flash that makes him look like Bing Crosby. Egad.

In Grant Morrison's Final Crisis #3, Lois Lane is in the hospital, Wonder Woman looks like that walrus guy from Thundercats, and Jay Garrick, the Metamucil Flash, believes he saw the Silver Age Flash, Barry Allen, who's been dead since Crisis on Infinite Earths. There's also a paralegal dominatrix named Libra mincing about the Legion of Doom headquarters, threatening Lex Luthor with something called the Anti-Life Equation (7-11 taquitos + your colon= DEATH). Basically, a lot of stuff happens, and then the comic ends. Despite some cool sci-fi jargon, Final Crisis #3 never succeeds in making the reader care about the story. If DC Comics honestly thinks this is a flagship miniseries…yikes.

For such a dull story, the layout is surprisingly intelligent. The panels aren't a random collection of boxes, they're a well-constructed grammar that focuses the story's (non) action. I wish the art itself were as good. J.G. Jones is a consistent draughtsman, but his style is lackluster, and the action scenes are yawn-inspiringly static. This matches the story's underplayed tone, but a subdued style shouldn't be this boring. Colorist Alex Sinclair makes a valiant effort, but his colors are similarly lifeless.

Worth the money? Final Crisis might get better, but this installment isn't worth four dollars.
Last Updated: June 23, 2021 - 00:45