Comics / Comic Reviews / Marvel Comics
Daredevil #117
By Hervé St-Louis
March 29, 2009 - 14:44
Daredevil, as lawyer Matt Murdock faces off against the parents of his mentally unstable wife, while the Kingpin returns to New York City to settle an old score against the Hand. What are the intentions of the Kingpin? Will he become a thorn in Daredevil's life again?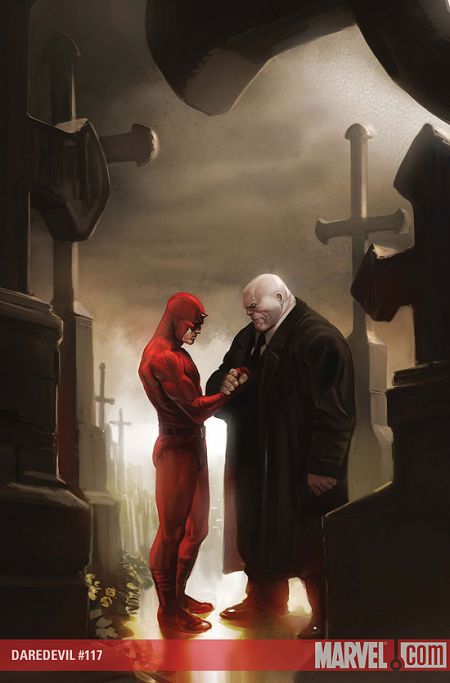 Well, this issue had the Kingpin return to what he does best, scare people by his presence. Now that there is some kind of truce between him and Daredevil, it will be interesting to see how long that lasts. This issue was not spectacular, but sometimes there is a need for sleeper material like this before a huge storyline with a great epic is released. Here Brubaker seem to be positioning all the chess part and enticing readers for more. I do find that the kingpin was reintroduced a bit too soon in this series. It's as if Daredevil could not exist without him. I hope the Kingpin exists as quickly as he entered and that he will not find a reason to hate Daredevil some more. Unless, this time, it's Daredevil who double crosses him!
Visually, it all works out. I remember when Daredevil looked like but a worm next to the kingpin. It's not the case now it seems. The cover shows them at about the same size. It's not clear with the inside art, as Daredevil is constantly slouching. It's kind of odd too that he would do so instead of measuring up to the man he has come to call his arch nemesis.
Rating: 9 /10
Last Updated: June 23, 2021 - 00:45