The Hidden Face of Belgian Comic Books
By Hervé St-Louis
July 27, 2011 - 00:48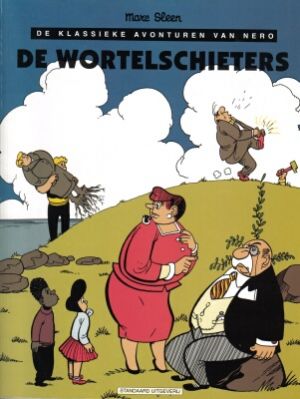 Nero Klassiek
Belgium is known as the world capital of comic books. Many comic books are produced in the ten million strong nation that stands between France and the Netherlands in North Western Europe and across the English Channel and the United Kingdom. The classics as they are known in Belgium, started popping out after the Second World War and quickly split into two artistic schools, Charleroi and the Ligne claire. But while the brunt of the world think of these Belgian comics as a unified whole coming from all the parts of the country, the reality is that most of these comic books originated in the French-speaking parts of the bi-cultural country. I was in Belgium just recently and an important question for me as a comic book pundit, collector and lover was – what about the Dutch-speaking contribution to Belgium's national art?
As I expected, Flemish creators – from the Dutch-speaking parts of Belgium also have a strong history of creating comic books. However, the Dutch contribution to Belgian comic books is continually overshadowed and perhaps even ignored by French-speaking pundits. To some extent, I could go into the historical and genealogical records of many of the most popular creators of classic Belgian comic books and easily find Flemish lineage in their families and claim that it is impossible to really separate the identities of Belgian comic book creators from the French and Dutch. Unlike Canada, where a similar situation occurs, with strong comic book outputs and strong publishing forces behind both solitudes, Belgium is a highly populous country in a very small space. Major cities are less than two hours from each other. Brussels' the country's capital is also officially bilingual and home to thriving communities that exist in both French and Dutch.
So I went around Belgium looking for Flemish comic books, because my sensibilities as a French Canadian could not accept that there were no such things, as claimed the attendant at a Belgian comic book museum I visited in Brussels. He said that in terms of classics, they were French-produced and that the Dutch-speaking cartoonists had very little to do with the creation of a wide comic book literature in Belgium. The attendant, a French-speaker seemed very adamant about this.
Tintin
,
Luky Luke
, the
Smurfs
,
Spirou
,
Blake and Mortimer
, they were all from French-speaking Walloon creators, not Fleming cartoonists. But I kept probing him and asking him. He relented and showed me two series,
De Klassieke Avonturen Van Nero
from cartoonist Marc Sleen and
Suske en Wiske
from Willy Vandersteen.
I was overjoyed and jumped on the series. While I could easily find in the bookstore area of the museum, countless French-speaking Belgian comic books and much material from France, Japan and the United States, there was little stuff in Dutch. There was a Dutch section alright, but it was mostly translated French-language comic books that would probably prove easier to read in their original French for me, than Dutch.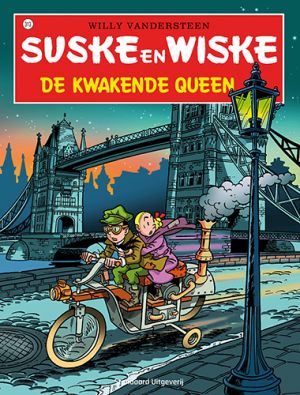 Suske en Wiske
Suske en Wiske
is a long running series from Vandersteen. Actually, Vandersteen died in 1990, but spin off series continue to be published. French-language comic book experts might recognize the series better under the name
Bob et Bobette
. In English the series has been published under the title
Spike and Suzy
. Although many stories were published in French first, the most complete collection of these comic books are found in Dutch only. The series has an interesting mix of ligne claire simple design but with the dynamism of a Charleroi comic book. One thing that is clear, the style is classical and the storytelling direct. The series follows the fantastic adventures of two tweens that takes them all over time and place. However, Vandersteen also has a historic legacy which historians have researched and which is somewhat controversial for this well-liked figure in Flanders. Vandersteen is alleged to have collaborated with the Nazis during their invasion of Belgium, drawing anti-Semitic cartoons. This is a question that interests me greatly and promise to come back to it when I'll review the
Suske en Wiske
story I obtained in Belgium. There is probably a lot of scholarly work published on Vandersteen and I will find out more about the allegations and write about them here.
Van Nero from Sleen is another adventure series with a wide supporting cast including kids as protagonists. Their design is far more cartoony but not like the Charleroi School. It feels more like what would expect from a Fleisher animated cartoon with strong pantomimes and facial exaggerations. Fans of older comic strips like
Wash Tubbs
will recognize the rounded lines but will miss the large blacks and light and dark experiments. Everything is flat with full blacks without any shadows or attempts to create different planes through a light and dark composition. Marc Sleen is fortunately alive, and probably has the world record for working the longest on one single comic strip.
I asked about the other Flemish masters, but the attendant at the museum said that that was it. There are others I know. I visited and old book store in Antwerp, and the place was filled with old comic books in Dutch that I had never heard before. According to the attendant, modern Belgian comic books are just Belgian, without any of the linguistic duality. I found that difficult to believe, as Flemish cartoonists, if they are like French Canadians will always publish their work in Dutch first even while the larger market is the French-speaking one.
Belgium appears to many people to be a Francophone country. It is more than that. While the Walloons have an easier access to a larger market through France than the Dutch-speaking Flemish do, the notoriety of Belgian comic books through the French-speaking community has probably much more to do with a larger market outside of Belgium and more emphasis and marketing on comics than the Flemish cartoonists. Two specific schools and publishing rivalries created
Le Journal de Tintin
and
Le Journal de Spirou
in French-speaking Belgium, creating an instant demand for more comic strips and comic books to fill the appetites of a nascent fan-base. In all likelihood, these conditions and competitive environment just were not found in Dutch-speaking Belgium. Works by Sleen and Vandersteen are still considered classics in all of Belgium. Belgium hides a lot of beauty and a rich culture for the comic book historian, and I hope to be able to research that country's comic book history deeper and relate my findings for
The Comic Book Bin
in future articles.
Last Updated: September 6, 2021 - 08:15