Belgian Art Show On Graphic Novels
By The Editor
May 27, 2007 - 10:25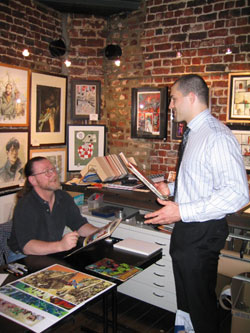 Golden in Brussels
Creators Joe Jusko and Michael Golden have just returned to the US after nearly two weeks as special guests of the Belgian Government and Flemish cultural society, taking part in a multifaceted artistic cross-cultural mission!
The tour began May 2nd, with store signings in Brussels, Paris, Breda and Antwerp, highlighted with a continuing Gallery show/sale in Antwerp featuring over 50 pieces of original artwork, at which the two US artists were joined by Danish painter and storyteller, Teddy Kristiansen, for the final leg of the 2007 Tour.
The two week extravaganza then culminated with a highly successful appearance at the Ganshoren Stripfestival--i.e. comic book convention--near Brussels, where throngs of fans awaited the trio.
In this unique endeavor to bring the artistic talents and ideals of countries together, the artists sketched their hearts out at every signing/appearance along the way, while meeting with European creators, and promoting the comic sequential art and the graphic novel art forms in general.
Not that it was all work!
Attached are highlights from the 2007 Tour--from our hosts in Paris and visits to the Eiffel Tower, to the wonderful food and company in Breda and Brussels, a little vertigo from watching the leaning buildings in Amsterdam, and to the beautiful gallery show in Antwerp--the trip could not have been more of a success. Not to leave out Michael Golden giving an exclusive class to kids on how to draw Spiderman in Brussels, and Joe Jusko finding a bit of webslinging on his own in Ghant. (Build it and they will come!)
Its no wonder why the coordinators sought out these three stellar artists who are all so well respected both domestically and abroad.
Michael Golden, co-creator of X-Men's Rogue, is the artistic driving force behind "The 'Nam," "Spartan X," "Bucky O'Hare," and the new "Iron Man" and "Heroes for Hire" covers from Marvel and "Battlestar" covers for Dynamic Forces. His work is being collected in the upcoming books: "Excess: The Art of Michael Golden" from Vanguard Productions, "Heroes and Villains" from Image Comics; and "Modern Masters: Michael Golden" from TwoMorrows. In addition, he'll also be featured on two DVD's-- "Modern Masters in the Studio with Michael Golden," and the "Creator Chronicles" from Woodcrest Productions and Eva Ink. (www.evaink.com)
Joe Jusko is a renowned comic and fantasy painter, widely known in the fine art scene for his gorgeous covers and trading cards. He is the talent behind the wildly popular "Marvel Masterpiece" card sets and the immensely detailed "Joe Jusko does Edgar Rice Boroughs" card set, and is featured in the Conan and Vampirella card sets as well. His work has graced the covers of Wizard Magazine and Heavy Metal Magazine, and spans such iconic characters as Vampirella, The Punisher, Conan, Shi, Nick Fury, Black Panther, and many more. His amazing work is highlighted in: "The Art of Marvel" and "Joe Jusko's Art of Edgar Rice Burroughs." And if you haven't seen his fully painted "Lara Croft: Tombraider" book, that is a must have! (www.joejusko.com)
Teddy Kristiansen is a renowned Danish comic book artist, whose unique style seems to touch upon the German expressionist painters of the late 1800's. Kristiansen is a natural at illustrating mystery, horror, and dark, suspense-filled comics. Among his creations is "Superman og Fredsbomben," and works in "House of Secrets" for DC Comics/Vertigo, "House of Secrets: Facade," "Sandman Midnight Theatre," "The Dreaming" and "Superman Metropolis." In 2005, Kristiansen won an Eisner Award for Best comics Painter for his work on the Superman Graphic Novel, "It's a Bird." (http://teddykristiansenblog.blogspot.com)
After this highly successful endeavor and cross-cultural exchange, the European coordinators will be working with Renee Witterstaetter of Eva Ink Publishing (one of the organizers of the 2007 Tour) to bring over several exhibitions of Belgian artists to the United States within the next few years.
Last Updated: June 23, 2021 - 00:29