07-Ghost: Volume 17 manga review
By Leroy Douresseaux
July 4, 2015 - 18:39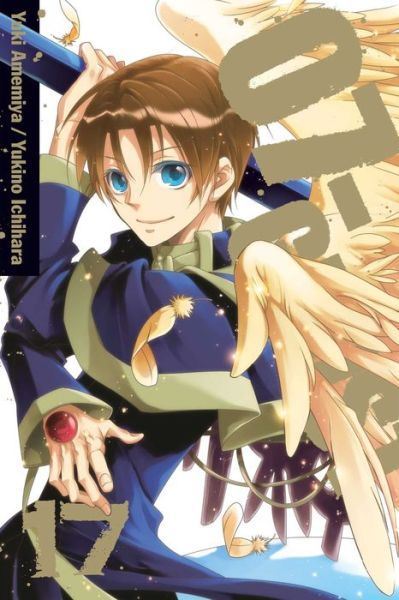 07-Ghost Volume 17 cover image is courtesy of barnesandnoble.com.
Rated "T" for "Teen"
Once upon a time, the
Barsburg Empire
destroyed the
Raggs Kingdom
.
Teito Klein
is a slave and a cadet at the Barsburg Empire Military Academy. He discovers that his father was the late
Weldeschtein Krom Raggs
, the murdered King of Raggs. Teito escapes to the Barsburg Church of District 7, where three bishops and seven legendary ghosts attempt to guide his destiny. Teito hopes to uncover the secrets of the world's murky past, as well as his own.
As
07-Ghost

, Vol. 17
(Chapters 96 to 99) opens, Teito tries to find a way to free himself and Bishop Frau from the scythe of
Verloren
the death god. Teito's final confrontation with the death god will pit him against the personification of Verloren, his nemesis and former tormentor at Barsburg Military Academy,
Chief Ayanami
. To save the world, however, Teito may have to make the ultimate sacrifice.
[This final volume contains the bonus story, "Seven Ghosts."]
THE LOWDOWN:
I read the first volume of the
07-Ghost
manga in November of 2012. A little more than two-and-a-half years later, the series has come to an end. Series creators,
Yuki Amemiya and Yukino Ichihara
, have rewarded those who followed the series from the beginning with answers and a resolution.
Please, allow me to be the fly in the ointment.
07-Ghost Volume 17
is quite satisfactory, but I am usually ambivalent about the final volume and final chapters of a manga. I find that the ends often feel incomplete, and
07-Ghost
ends, with the hint that there is more. In fact, those are the last words of the final chapter. So I accept this closure and wait to see what comes next... if something comes next.
POSSIBLE AUDIENCE:
Readers looking for shonen military fantasy with action and intrigue will want to try
07-Ghost
.
Last Updated: January 24, 2022 - 11:00