07-Ghost: Volume 15 manga review
By Leroy Douresseaux
March 23, 2015 - 19:56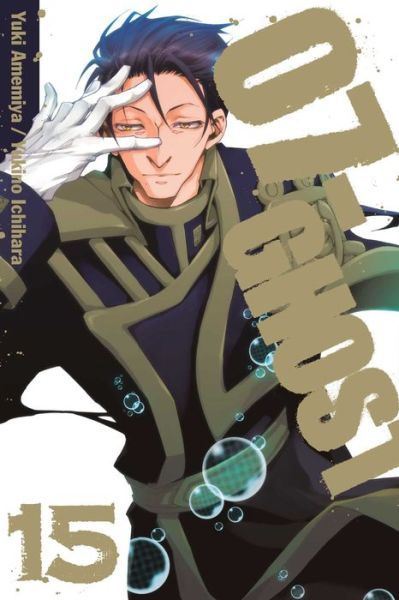 07-Ghost Volume 15 cover image is courtesy of barnesandnoble.com.
Follow me on
Twitter
.
Rated "T" for "Teen"
The Barsburg Empire
(protected by the
Eye of Raphael
) destroyed the
Raggs Kingdom
(protected by the
Eye of Mikael
). A slave,
Teito Klein
, is a cadet at the Barsburg Empire Military Academy when he discovers that his father was the late
Weldeschtein Krom Raggs
, the King of Raggs. Teito escapes to the Barsburg Church of District 7, where three bishops and seven legendary ghosts attempt to guide his destiny. Teito hopes to uncover the secrets of the murky past – both his and the world's.
07-Ghost

, Vol. 15
(Chapters 85 to 90) opens after the shocking revelation that
Rosea Manelle Ouka Barsburg
is a replica of the original Ouka, who died at the age of three. Now,
Dr. Nanase
wants possession of Ouka, whom he sees as his property, as he designed the replicas. He even attacks Ouka's father,
Emperor Wolfram
. Teito comes to the rescue, not only helping to dispatch the doctor, but also to free the emperor of the shadow that has possessed him for so long.
Now, it is time to start spilling some secrets, as the past is thrown open. The story behind Ouka is completed. Teito learns of the unrequited love that Wolfram had for his mother,
Millea Klein
. The temptation of Wolfram by the shadowy
Warmonger
is brought to light. Meanwhile, two of the seven ghosts return, in a volume in which the twisted web of romance and blood ruins all.
THE LOWDOWN:
When I first read the
07-Ghost
manga, I thought that the series had potential. However, as the debut series of
Yuki Amemiya
and
Yukino Ichihara
the first few volumes of
07-Ghost
showed how raw the creators were.
Recent graphic novels in the series reveal how the narrative has come together.
07-Ghost Volume 15
is one of the best of the series. More of the past is revealed, which serves to strengthen the present drama. At this point in the series, each volume rewards readers who have stuck around since the beginning.
POSSIBLE AUDIENCE:
Readers looking for shonen military fantasy with action and intrigue will want to try
07-Ghost
.
Rating: A /10
Last Updated: January 24, 2022 - 11:00