07-Ghost: Volume 14 manga review
By Leroy Douresseaux
January 25, 2015 - 08:11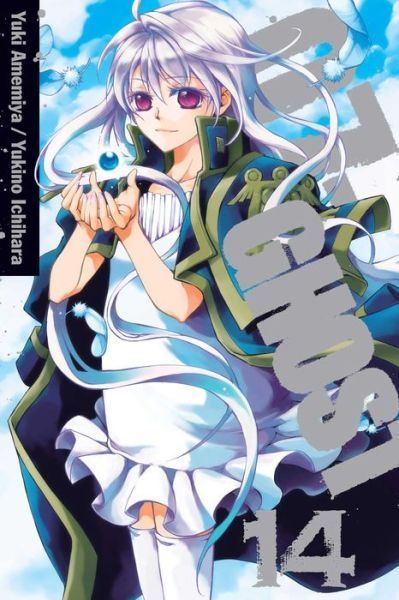 07-Ghost Volume 14 cover image is courtesy of barnesandnoble.com.
Follow me on
Twitter
.
Rated "T" for "Teen"
The
Barsburg Empire
, protected by the
Eye of Raphael
, destroyed the
Raggs Kingdom
, protected by the
Eye of Mikael
. Teito Klein, a slave, is a cadet at the
Barsburg Empire Military Academy
when he discovers that his father was
Weldeschtein Krom Raggs
, the King of Raggs. Teito escapes to the
Barsburg Church of District 7
, where three bishops and seven legendary ghosts attempt to guide his destiny. Teito hopes to uncover the secrets of the murky past – his and the world's.
Teito has been captured and brainwashed by
Chief of Staff Ayanami
, the man who has been hunting him since he escaped from the military academy. Now, Teito is Ayanami's faithful servant. As
07-Ghost

, Vol. 14
(Chapters 79 to 84) opens, Teito finds his dreams haunted by someone he should know – a friend, perhaps?
Ayanami assigns Teito to be
Princess Rosa-Manelle Ouka Barsburg
's bodyguard and her chaperon for her 16th birthday event, which will include a masquerade ball. It will be a big event, as Princess Ouka prepares to assume the throne of Barsburg as empress. There are, however, several plots against her, and Teito's friends, led by
Bishop Frau
, also plan a rescue. After the confusion, Teito learns the shocking secret of Ouka's past.
THE LOWDOWN:
The eleventh volume of the
07-Ghost
manga was the last time I visited Teito and company. Sometime between that and
07-Ghost Volume 14
, Teito was finally captured by Ayanami.
Creators
Yuki Amemiya
and
Yukino Ichihara
use Teito's return to the bowels of Barsburg and its conspiracies to reveal conspiracies, initiate reunions, offer reappearances, and unveil history. Fans of
07-Ghost
will find that this volume offers all of the above as if they were dishes in a feast of overabundance. As I have previously written, once the reader has bought into the world of
07-Ghost
, he or she will only want to know more.
POSSIBLE AUDIENCE:
Readers looking for shonen military fantasy with action and intrigue will want to try
07-Ghost
.
Rating: A /10
Last Updated: August 31, 2023 - 08:12