07-Ghost: Volume 10 manga review
By Leroy Douresseaux
May 16, 2014 - 08:40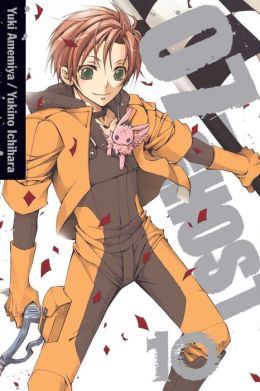 07-Ghost Volume 10 cover image is courtesy of barnesandnoble.com.
Follow me onTwitter.
Rated "T" for "Teen"
The Barsburg Empire destroyed the Raggs Kingdom, which was protected by the Eye of Mikael. Teito Klein, a slave, is a cadet at the Barsburg Empire Military Academy when he discovers that his father was Weldeschtein Krom Raggs, the King of Raggs. Teito escapes to the Barsburg Church of District 7, where three bishops and seven legendary ghosts attempt to guide his destiny. Teito hopes to uncover the secrets of the murky past.
Teito is an apprentice bishop, and travels with Bishop Frau to the Land of Seele. To do so, he must claim a "curse ticket" from each of the seven God Houses, which are the seven clans that are the true power in the kingdom. Along the way, Teito and Frau rescue a new companion, Capella, a young slave boy.
As 07-Ghost, Vol. 10 (Chapters 55 to 60) opens, Teito, Frau, and Capella enter the port town of Neel, in District 4, where they hope to find Capella's mother, Lutia. Their luck holds and they find Lutia at the Almaaz Estate, where she acts as the stand-in for the mother of a young heiress named Lena. There is, however, a conspiracy against Lena, and Teito and Frau are determined to uncover everyone behind it.
Neel is also the site of a biannual Hawkzile race, the most dangerous one in the world. [A "Hawkzile" is like the speeder bike from Return of the Jedi.] A total of 245 two-man teams will compete for a prize of 100 million yus. Teito and Frau plan to enter the race as a way to sneak into District 1, but they are too late to register. Plus, slave traders and brothers, Carl and Parl, return.
THE LOWDOWN: The 07-Ghost manga continues to charm me. 07-Ghost Volume 10 is one of the better graphic novels in this series. It shows creators, Yuki Amemiya and Yukino Ichihara, at their best and how far they have moved the story.
The Lutia-Lena storyline is poignant because of the mother and child reunion and is an intriguing mystery, because of the family drama and secrets. The early stages of the Hawkzile race allow the creative team to show off its influenced art and graphic wild-style. I thought that Vol. 9 was a must-have for readers; well, Vol. 10 is another essential graphic novel in this continually improving series.
POSSIBLE AUDIENCE: Readers looking for shonen military fantasy with action and intrigue will want to try 07-Ghost.
Rating: A /10
Last Updated: August 31, 2023 - 08:12