07-Ghost: Volume 9 manga review
By Leroy Douresseaux
March 14, 2014 - 16:17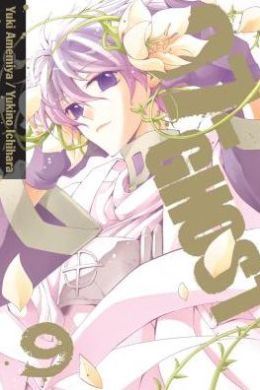 07-Ghost Volume 9 cover image is courtesy of barnesandnoble.com.
Rated "T" for "Teen"
Protected by the Eye of Rafael, the Barsburg Empire destroyed the Raggs Kingdom, which was protected by the Eye of Mikael. Former slave and orphan, Teito Klein, is a cadet at the Barsburg Empire Military Academy, but he discovers that his father was Weldeschtein Krom Raggs, the King of Raggs. Teito escapes to the Barsburg Church of District 7, where three bishops and seven legendary ghosts attempt to guide his destiny. Teito hopes to uncover the secrets of the murky past.
Teito, now an apprentice bishop, travels with Bishop Frau to the Land of Seele. In order to travel to the Land of Seele, Teito must claim a "curse ticket" from each of the seven God Houses, the seven clans that are the true power in the kingdom. Along the way, Teito and Frau rescue a new companion, Capella, a young slave boy.
As 07-Ghost, Vol. 9 (Chapters 48 to 54) opens, Teito meets Lady Ouka and her "dragon," Kururu. Teito is sure that he has met this strange girl before. They become fast friends, but soon find themselves the target of Lem, who seems to be a kind of demon called a "wars," and monster that kills humans and collects souls.
Teito and Lady Ouka eventually learn of the tragic story involving Lem, Lilin (a sick child), Ilyusha, the Flower of Eden, and a frozen garden. Meanwhile, Master Kraut, of the God House Kraut, is selling something called "incense," which he promises will cure all ills – of the body, mind, and soul.
THE LOWDOWN: The more I read the 07-Ghost manga, the more I like it. Creators Yuki Amemiya and Yukino Ichihara have moved the story to a point that offers a fury of revelations about the past.
Early in the series, it was clear that the manga-creating duo of Amemiya and Ichihara were young and novice creators. They fashioned a series that was murky in a number of areas concerning the plot and characters. With each secret revealed or mystery solved, 07-Ghost made more sense, especially if the reader took time to think about earlier chapters. 07-Ghost Volume 9 ends with more reveals, some of them big, making the next issue a must-have for fans of the series.
POSSIBLE AUDIENCE: Readers looking for shonen military fantasy with action and intrigue will want to try 07-Ghost.
Rating: A- /10
Last Updated: August 31, 2023 - 08:12