07-Ghost: Volume 8 Advanced manga review
By Leroy Douresseaux
January 13, 2014 - 16:49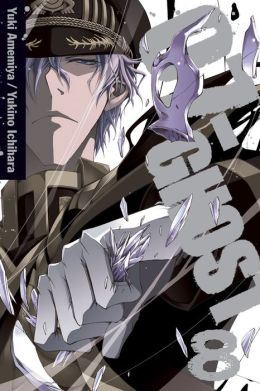 07-Ghost Volume 8 cover image is courtesy of barnesandnoble.com.
Rated "T" for "Teen"
The Barsburg Empire, protected by the Eye of Rafael, destroyed the Raggs Kingdom, which was protected by the Eye of Mikael. Former slave and orphan, Teito Klein, is a cadet at the Barsburg Empire Military Academy, but he discovers that his father was Weldeschtein Krom Raggs, the King of Raggs. Teito escapes to the Barsburg Church of District 7, where three bishops and seven legendary ghosts attempt to guide his destiny. Teito hopes to uncover the secrets of the murky past.
Now an apprentice bishop, Teito travels with Bishop Frau to the Land of Seele. In order to travel to the Land of Seele, Teito must claim a "curse ticket" from each of the seven God Houses, the seven clans that are the true power in the kingdom. Along the way, Teito and Frau rescue a new companion, Capella, a young slave boy. Arriving at the God House of District 5, Teito discovers the ruins of the Raggs Kingdom.
As 07-Ghost, Vol. 8 (Chapters 42 to 47) opens, Teito's memories come spilling out to reveal so many secrets that it can only be described as a pile of secrets. Meanwhile, the bishops discover that someone has been tampering with the "Memory Quelle," which holds the memories of the seven ghosts and the bishops.
Teito recovers memories about the Raggs/Barsburg dispute. Teito and Frau re-dedicate. Ayanami makes a big move.
THE LOWDOWN: The 07-Ghost manga has moved into a point in the story where revelations come fast and furious. 07-Ghost Volume 8 has so many things to say, and some it changes the shape and direction of the narrative. The manga-creating duo, Yuki Amemiya and Yukino Ichihara, are self-assured at this point in the series, and they are now making the reader's effort to follow the series worth it.
POSSIBLE AUDIENCE: Readers looking for shonen military fantasy with action and intrigue will want to try 07-Ghost.
Rating: A- /10
Last Updated: August 31, 2023 - 08:12