07-Ghost: Volume 6 manga review
By Leroy Douresseaux
September 10, 2013 - 16:31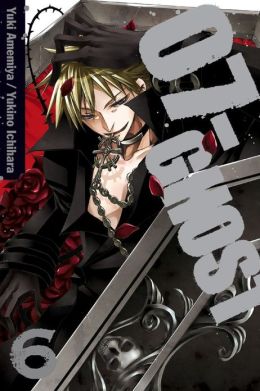 07-Ghost Volume 6 cover image is courtesy of barnesandnoble.com.
Rated "T" for "Teen"
Once upon a time, The Barsburg Empire (protected by the Eye of Rafael) destroyed the Raggs Kingdom (protected by the Eye of Mikael). Former slave and orphan, Teito Klein is a cadet at the Barsburg Empire Military Academy. He discovers that his father was Weldeschtein Krom Raggs, the King of Raggs. Teito escapes to the Barsburg Church of District 7, where three bishops and seven legendary ghosts attempt to guide his destiny. Teito hopes to use the Eye of Mikael to uncover the secrets of the murky past.
Now an apprentice bishop, Teito travels with Bishop Frau to the Land of Seele. In order to travel to the Land of Seele, Teito must claim a "curse ticket" from each of the seven God Houses, the seven clans that are the true power in the kingdom. First stop is in District 6, home of the God House, the "Hausen Family." Along the way, Teito and Frau add a travel companion, after rescuing Capella, a young slave boy
As 07-Ghost, Vol. 6 (Chapters 30 to 35) opens, Frau fights demons in District 6. Meanwhile, Teito continues to explore the Hausen House, where one of its protectors, Seilan, tells him of the House's tragic history, involving a boy named Xinglu. Teito realizes that he might have a connection to Xinglu. Also, Teito learns of the Hausen House's status as assassins and their connection to the Empire's past. Teito also gets several trouble glimpses of his past.
THE LOWDOWN: We have reached the point in the 07-Ghost manga in which the storytelling has become more polished. 07-Ghost is the debut work of the manga-creating duo, Yuki Amemiya and Yukino Ichihara, and early on, the series showed the blemishes and inconsistencies one would expect of novice creators.
With each volume, the subplots and characters of 07-Ghost became more defined. Now, we have 07-Ghost Volume 6, and the chapters herein present the narrative at its most coherent to date. Character personalities, motivations, goals, and conflicts are clear, and because of that, Vol. 6 engages the reader with its offerings. This is a reward for those who have stayed with the series since the beginning.
POSSIBLE AUDIENCE: Readers looking for shonen military fantasy and mystery will want to try 07-Ghost.
Rating: A- /10
Last Updated: August 31, 2023 - 08:12