Waqwaq: Volume 1
By Leroy Douresseaux
Jul 20, 2009 - 15:17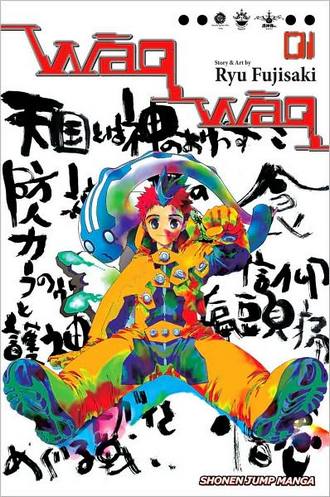 Waqwaq Volume 1 cover image is courtesy of barnesandnoble.com.
Rated "T" for "Teen"
On the world of Wāqwāq, humans and machines have been at war since time immemorial. Mankind lives in constant fear of attack from machines, and they depend upon the Guardians, a cyborg corps that defends humanity from the machines. A boy named Shio has just inherited both his father's position as a Guardian and Armaiti, his father's Gojin-Zou, a relic that merges with a Guardian and grants him immense power. Now, Shio must fight machines and protect Matsuda, the girl who could be humanity's last hope.
In Wāqwāq, Vol. 1 (entitled Proof of the Gods), Shio's father, Al, is killed during a machine attack. Al begins to transfer his powers to his son, a process that continues even after death. There is also the appearance of a mysterious girl whose blood is red (whereas the humans of Wāqwāq have black blood). The prophecies proclaim red blood to be the mark of the Kami, the savior who can grant only one wish to one person. Believing the mystery young woman (who calls herself "Matsuda") to be the Kami, many, including other Guardians and the machines, are looking for her. It falls to Shio to protect Matsuda.
THE LOWDOWN: Whenever creator Ryu Fujisaki draws a fight scene in Wāqwāq, he stuffs the panels with so much stuff: effects, action lines, thick brush strokes, twisted circuitry, and cyborg/robot miscellanea that even Superman's sharp vision can't discern body part from scratchy line. I used a magnifying class and mostly still couldn't figure out what was what. Wāqwāq is a few things. It is a standard shonen fight comic book, at which it is pretty good. It's also a typical post-apocalyptic sci-fi series with the Mad Max-type violence watered down for young readers. That said, if the art wasn't trying to blind me, I could really like this.
POSSIBLE AUDIENCE: A Shonen Jump title, Wāqwāq should appeal to young shonen fans.
B-
Last Updated: Jun 26, 2018 - 9:28