Waqwaq: Volume 2
By Leroy Douresseaux
Nov 3, 2009 - 14:52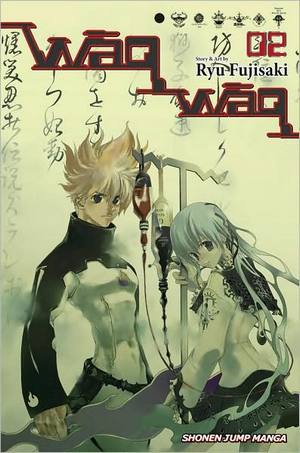 Waqwaq Volume 2 cover image is courtesy of barnesandnoble.com.
Rated "T" for "Teen"
The world of Wāqwāq has seen humans and machines at war since time immemorial. Mankind lives in constant fear of attack from machines. They depend upon the Guardians, a cyborg corps that defends humanity from machines. A boy named Shio has just inherited both his father's position as a Guardian and Armaiti, his father's Gojin-Zou, a relic that merges with a Guardian and grants him immense power. Now, Shio must fight machines and protect Matsuda, the girl who could be humanity's last hope.
Matsuda is the Kami, the godlike savior who can grant only one wish to one person, and every guardian wants to possess her so that he can obtain that wish. Unlike the other guardians, Shio is Kami's protector. In Wāqwāq, Vol. 2 (entitled The Three Magi), Shio faces another guardian in battle for possession of the Kami. Shio defeats Guardian Leo Hediard, and Armaiti devours Leo's gojin-zou, Asha. Now, Leo, still nursing a grudge, accompanies Shio on his journey.
However, Kami suffers injuries, and the mysterious Three Magi spirit her away to the Spider's Thread, a sky bound fortress at the center of Wāqwāq. Meanwhile, Shio and Leo arrive in Village 6, a place of fertile land and a prosperous harvest. So why do the people of Village 6 look so emaciated… and why do they hate guardians? Maybe, Guardian Drexel can answer those questions
THE LOWDOWN: The difference in quality between the first and second volumes of Wāqwāq deserves to be described as like the difference between night and day. In the second volume, the narrative runs a lot smoother, unencumbered with introducing the characters, settings, plots and subplots, and other conceptual issues, as the first volume was. Creator Ryu Fujisaki's compositions are also a lot cleaner, which makes for graphic storytelling that is easier to read and decipher. Fujisaki's eclectic design work on the creature/machine tech alone makes this manga worth checking out at least once.
POSSIBLE AUDIENCE: Fans of shonen science fiction filled with cyborgs and other strange machines will like Wāqwāq.
A-
Last Updated: Jun 26, 2018 - 9:28