Waqwaq: Volume 3
By Leroy Douresseaux
February 11, 2010 - 05:18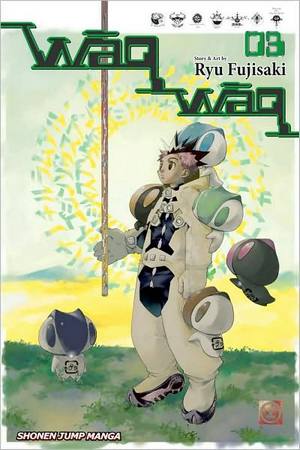 Waqwaq Volume 3 cover image is courtesy of barnesandnoble.com.
Rated "T" for "Teen"
The world known as Wāqwāq has seen humans and machines at war for nearly 2000 years. Mankind lives in constant fear of attack from machines, and they depend upon the Guardians, a cyborg corps, to defend them from machines. A boy named Shio has just inherited both his father's position as a Guardian and his Gojin-Zou. Named Armaiti, the Gojin-Zou is a relic that merges with a Guardian and grants him immense power. Now, Shio fights machines and protects Matsuda, the girl who could be humanity's last hope.
Shio has fought three fellow Guardians and devoured their Gojin-Zou. One of those Guardians is Leo Hediard, who, along with wannabe ninja, Fran, follows Shio to Spider's Thread, where Matsuda is being held hostage. As Wāqwāq, Vol. 3 (entitled Vow of the Rose) opens, Shio faces yet another guardian, but his ultimate goal remains Spider's Thread. There, Shio will face the most powerful Guardian and his Gojin-Zou, Spenta Manyu. Shio will certainly be surprised when he discovers the identity of that Guardian.
THE LOWDOWN: The eccentric narrative and the eclectic art makes the four-volume Wāqwāq unique graphical storytelling. The art by creator Ryu Fujisaki recalls the inimitable illustrative and graphic design style of Jim Steranko, and this unusual look that Wāqwāq has is what makes it so appealing. Fujisaki, also known for the odd looking Hoshin Engi, is so visually, illustratively, and graphically imaginative that he manages to produce each panel in a way that at least one element in it will capture the reader's attention. That is effort that should be rewarded with more readers.
POSSIBLE AUDIENCE: Fans of peculiar shonen science fiction filled odd machines will like Wāqwāq.
A
Last Updated: August 31, 2023 - 08:12