Vampire Kisses: Blood Relatives Volume 3
By Leroy Douresseaux
February 6, 2010 - 13:18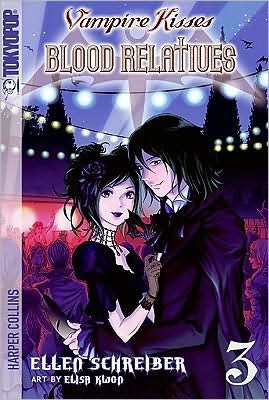 Vampire Kisses: Bloody Relatives Volume 3 cover image is courtesy of barnesandnoble.com.
Romance/Horror; Rated "T" for "Teen-Age 13+"
Vampire Kisses: Blood Relatives is a three-volume American manga series set in the world of Vampire Kisses, the Young Adult novel series from writer Ellen Schreiber. Blood Relatives is produced as part of a joint venture between American manga publisher, TOKYOPOP, and book giant, HarperCollins, to publish original English manga (OEL) based upon select HarperCollins "Young Adult" (YA) titles.
Vampire Kisses is set in the town of Dullsville and focuses on goth girl Raven Madison. Raven doesn't fit in with the rest of Dullsville, especially with her fellow students at conservative Dullsville High. However, Raven finds her dream guy when she meets teen vampire, Alexander Sterling, a sensitive artist who also finds true love in Raven.
In Vampire Kisses: Blood Relatives, Vol. 3, Raven and Alexander march towards their final showdown with Alexander's half-vampire cousin, Claude Sterling, and his gang of vampire thugs: the beguiling Kat, the muscular Rocco, and the brainy Tripp. Claude came to Dullsville to find a treasure map to a stash of vials filled with vampire blood, which can turn Claude and his crew into pureblood vampires.
Thus far thwarted in his attempts to find the vials, Claude joins Raven's longtime nemesis, super jock Trevor Mitchell, to concoct a vampire-theme masquerade ball at Dullsville High. Is the party a mere distraction or is Claude really plotting to turn all the students at Dullsville High into vampires? Whatever Claude's plan is, both Alexander and Raven may have to put their lives on the line to stop him.
[This book also includes a section of fan art and an excerpt from the YA novel, Vampire Kisses 6: Royal Blood by Ellen Schreiber.]
THE LOWDOWN: Vampire Kisses: Blood Relatives is a side story to the main book series – sort of a comic book interlude to the events in the main series. Ellen Schreiber wrote Blood Relatives' story, and Diana McKeon Charkalis adapted it into comic book script form. The artist rem (the pen name of artist Priscilla Hamby) provided the art for the first two volumes, but artist, Elisa Kwon draws this concluding volume.
I was disappointed to discover that rem wouldn't finish the series, but Kwon is dynamite. Her clean drawing style, which bears a passing resemblance to Daniel Clowes' work, and her storytelling (which reminds me of Jim Rugg's work on The PLAIN Jane books) captures the concepts, characters, settings, and spirit of Vampire Kisses. And it has an eye candy appeal.
I thought Vampire Kisses: Blood Relatives, Vol. 2 was a bit of a let down from the first volume because some of the second volume read like story padding to lengthen the narrative. This time around, Diana McKeon Charkalis moves the story with a briskness that will keep readers on edge, and Schreiber and Charkalis give them an ending that is both shocking and delightful. Best of all, Vol. 3 will make many readers really sad that this good thing has come to an end.
POSSIBLE AUDIENCE: Young readers that crave teen vampires will want to try Vampire Kisses: Blood Relatives.
A
Last Updated: February 5, 2023 - 09:06