Ellen Schreiber: Vampire Kisses
By Leroy Douresseaux
Oct 23, 2007 - 14:45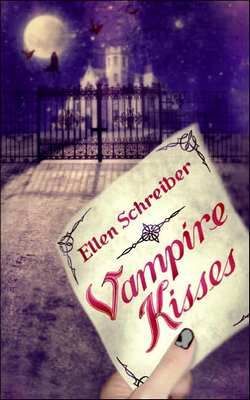 Cover image with art by Kamil Vojnar. Thanks to barnesandnoble.com for the image.
VAMPIRE KISSES
Vampire Kisses is the first volume of a Young Adult novel series by author Ellen Schreiber (Teenage Mermaid) and published by HarperCollins imprint, HarperTrophy.
Vampire Kisses presents us with goth lovin' 16-year-old Raven Madison. Once upon a time, her parents, Sarah & Paul Madison, were hippies; now, they, along with the brother she calls Nerd Boy (real name: Billy), are boring – perhaps, as boring as the town where she lives, which she calls Dullsville. Raven is friendless, except for lonely farm girl, Becky Miller, and school, Dullsville High, is torture. What Raven really wants, what she secretly covets, is a vampire kiss, and she may finally get her wish.
The lonely, and some say haunted, mansion on Benson Hill finally has new residents after several years of being empty and boarded up. The new family has a son, who is apparently home schooled. Rumors fly that the family, which seems to only come out at night, are vampires. Raven wishes she could be so lucky, and promptly goes about investigating the new residents, which includes breaking into the mansion.
When she finally meets the family's tall, dark, handsome, and elusive son, Alexander Sterling, Raven falls in love and believes she might finally get a vampire's kiss. However, a high school rival just may blow it all up and reveal that Raven might be as bad as her gossipy neighbors.
THE LOWDOWN: What an adult might consider a light novel is actually a breezy teen romance to young readers. Author Ellen Schreiber mixes melodrama that would pass a theoretical safe test from The Disney Channel and also vampire fiction harmless as an episode of "Scooby-Doo, Where Are You?" Vampire Kisses is a fun read, deftly written in a brisk style that pulls the reader along on a whirlwind romance. It's thrilling and romantic, and its idealized version of those tough teen years is quite engaging.
POSSIBLE AUDIENCE: Young Adult readers who like supernatural romance already adore this, so it's waiting to be discovered by readers that don't normally try novels, but dig something like Edward Scissorhands.
B+
Last Updated: Jun 26, 2018 - 9:28