Vampire Kisses: Blood Relatives: Volume 2
By Leroy Douresseaux
Oct 5, 2008 - 19:19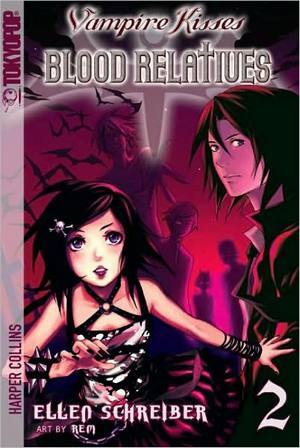 Thanks to barnesandnoble.com for the above cover image.
Romance/Horror; Rated "T" for "Teen-Age 13+"
American manga publisher, TOKYOPOP, entered into a partnership with book publishing giant, HarperCollins, to publish original English manga (OEL), based upon select HarperCollins "Young Adult" (YA) titles. One of the first titles TOKYOPOP took on was Ellen Schreiber's Vampire Kisses series (which, as of this writing, numbers five books). The result was Vampire Kisses: Blood Relatives, a three-volume manga series which began publication in 2007.
Vampire Kisses, set in the town of Dullsville, stars goth girl, Raven Madison. Although she doesn't fit in with the rest of Dullsville, especially with her fellow students at conservative Dullsville High, Raven finds her dream guy when she meets teen vampire, Alexander Sterling. The young vampire is a sensitive artist, and he finds true love in Raven.
Vampire Kisses: Blood Relatives is a side story to the main book series – sort of a comic book interlude to the events in the main series. Vampire Kisses creator Ellen Schreiber wrote Blood Relatives' story, and Diana McKeon Charkalis adapted it into a comic book script, with rem (the pen name of artist Priscilla Hamby) providing the art. Vol. 1 introduced Alexander's half-vampire cousin, Claude Sterling, and his gang of punk vampires. Although being half-breeds means that Claude and his crew can live out in the sunlight (unlike purebloods who can't live in sunlight), they want to be purebloods.
In Vampire Kisses: Blood Relatives, Vol. 2 (Chapters 5-10 of this story), Claude and his trio of thug pals: the right hand girl, Kat; the gang's muscle, Rocco; and the brains of the outfit, Tripp, have invaded Dullsville High. Claude begins using threats of harm against her family and friends to force Raven into helping him find a treasure map. The treasure is a stash of vials filled with vampire blood – the kind that can turn Claude and his crew into pureblood vampires. Raven and Alexander hatch a plot to trick their adversaries, but the wily Claude is determined to break apart this romance. He offers Raven something she secretly desires, no matter how much she may deny it – the chance to become a real vampire, which is the only way she can have Alexander forever.
[This book also includes a sketchbook section and an excerpt of the YA novel, Vampire Kisses 5: The Coffin Club by Ellen Schreiber.]
THE LOWDOWN: As much as I've been anticipating the arrival of the second volume of Vampire Kisses: Blood Relatives, I found myself a little let down. So much of this second volume seems like padded story. About 50% longer than the first volume, some of Vol. 2 comes across as having more scenes with Claude and Raven than are necessary to sell that particular plot point. Also, the spark between Raven and Alexander that was so evident in the first volume is somewhat lacking here.
Well, I'm only a little disappointed! Vol. 2 really kicks into high gear in Chapters 9-10. The edgy suspense of the plot and the smoldering romance of Raven and Alexander come back with a roar. Meanwhile, rem's lovely art is consistently good throughout this volume. She gives the supernatural confrontations and conflicts a modern Charles Addams spin and gives the goth romance both a cool sheen and a surprising warmth.
POSSIBLE AUDIENCE: All those readers who seem to crave teen vampires will want to try Vampire Kisses: Blood Relatives.
B+
Last Updated: Jun 26, 2018 - 9:28