Stephenie Meyer's New Moon (The Twilight Saga Book Two)
By Leroy Douresseaux
November 30, 2009 - 08:09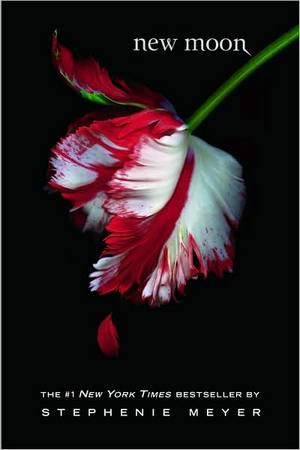 New Moon cover image is courtesy of barnesandnoble.com.
With her 2006 novel, New Moon, author Stephenie Meyer returned to her fictional depiction of the real-life small town of Forks, located in the Olympic Peninsula of northwest Washington State. There, she picked up the love story of high school student Isabella "Bella" Swan and her vampire boyfriend, Edward Cullen. All is well until Bella's 18th birthday party at the Cullens' stately, but lonely mansion, hidden deep in the woods that surround the area.
During the party, a fairly common accident causes a hellish uproar in the Cullen house. The aftermath of this is that Edward makes a stunning decision: he must leave Bella in order to protect her. The entire Cullen vampire coven disappears into the night, as if they had never existed. The loss of Edward sends Bella into a deep depression, one from which her father, Forks Police Chief Charlie Swan, believes his daughter may not emerge.
Bella eventually devises a scheme to keep Edward's memory fresh in her mind. This scheme leads her to Jacob Black, a young Native American Indian of the Quileute tribe in nearby La Push. Their developing friendship helps ease the pain of losing Edward. However, the cheerful, easygoing Jacob, who is younger than Bella, hides an amazing secret in his very bloodline. If the revelation of Jacob's secrets were not enough, Edward's sister, Alice, returns to Forks seeking Bella's help to save Edward.
THE LOWDOWN: Since its debut in October 2005, Twilight, a young adult (YA) fantasy and romance novel aimed at teen female readers, has been a literary phenomenon, spawning three sequels (with the four books forming The Twilight Saga). Two of the books, Twilight and its follow up, New Moon, have become smash hit movies. Twilight's strength is in its strong characters (especially the leads) and its deeply seductive romantic mood.
The second novel, New Moon, has both of these elements, but its core is Meyer's take on the idea of "star-crossed lovers." A phrase used to describe doomed love, the most famous example of star-crossed lovers is William Shakespeare's Romeo and Juliet. Meyer's conceit, however, is that the biggest obstacles to Bella and Edward's relationship are not family and outside forces, (as was the case with Romeo and Juliet). The questions before both Bella and Edward are how much do they want this? It is obvious that they love each other, but what is each willing to sacrifice for the other? How much are they willing to fight to stay together – to what lengths will they go?
Regardless of what one thinks of Meyer as a writer or thinks of her subject matter, she tackles the big questions of life and love in these young adult books. She offers enchanting romance, but with a cautionary edge. Meyer sends her readers on heart-racing tales set in forests of shape-shifting legends, but she can also transport them to a world of heart-stopping fear found in the chilly caverns beneath an ancient castle. New Moon is gripping, spellbinding storytelling.
POSSIBLE AUDIENCE: Readers looking for the good stuff look for New Moon.
A
Last Updated: August 31, 2023 - 08:12