Taylor Lautner comic book biography completes Twilight saga for Bluewater
By The Editor
May 17, 2010 - 12:41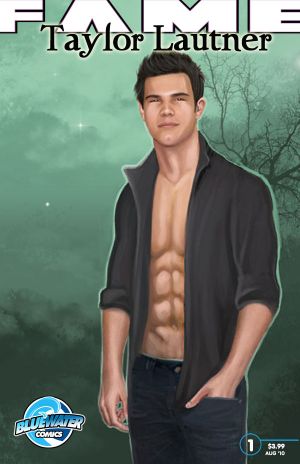 Bluewater Productions has already completed comic book biographies of
Twilight
actors Robert Pattinson and Kristen Stewart and of the author who first brought
Twilight
to life, Stephenie Meyer. In August, the comics company will add actor Taylor Lautner to the mix.

Lautner, who plays shape shifter Jacob Black in the
Twilight
films, will get his own comic from Bluewater this August. The 32-page
Fame: Taylor Lautner
will retail at comic shops, Amazon.com and other online sites for $3.99.

Lautner was a relatively unknown actor until he made his debut in the popular vampire-romance movies. Those days are over. Today, Lautner is as much a household name as are Stewart and Pattinson.

Lautner is also a committed actor. He studied martial arts and packed on 30 pounds of muscle for his role in the
Twilight
movies.

Of course, Lautner's smile and chiseled features haven't hurt his popularity, either, at least not among the movies' largely female audience.

Kimberly Sherman, who's penned the biography comics of both Pattinson and Stewart, also wrote the new Lautner comic. Warren Martineck, an artist for DC Comics' WildStorm studio, provided the interior art, while JuanMar Studios produced the comic's cover.

You can see exclusive pages of the comic book on MTV:
http://splashpage.mtv.com/ 2010/05/17/taylor-lautner- comic-book-preview/


"The
Twilight
series has become a pop culture phenomenon," said Darren Davis, president and founder of Bluewater Productions. "It's transformed previously unknown actors into superstars. It seems that the same thing is happening with Taylor Lautner. We at Bluewater are happy to bring Taylor's story to his fans, and hope that his comic helps introduce these readers to the joys of graphic storytelling."

Bluewater Productions has carved out a niche for itself with its top-selling line of biography comics. The company's
Fame
line of biographies, which chronicles the life of influential celebrities, will debut this May with comics focusing on Pattinson and Lady GaGa. Both titles are available then at comic book stores on May26th as well as Amazon in which the comics have ranked up to #300 on the site.

Bluewater also publishes the
Female Force
and
Political Power
line of comics. These biographies have features such powers as Nancy Pelosi, Barack Obama, Nelson Mandela and Sarah Palin.
Last Updated: February 5, 2023 - 09:06