Stephenie Meyer's Twilight (The Twilight Saga Book One)
By Leroy Douresseaux
November 30, 2008 - 10:41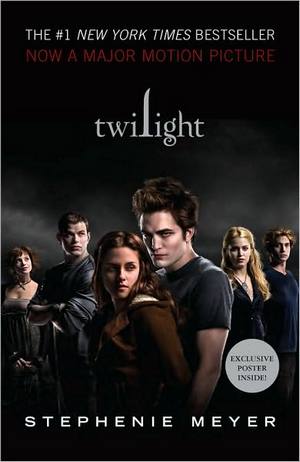 Thanks to barnesandnoble.com for the cover image of Twilight - Media Tie-In Edition.
When Isabella "Bella" Swan moved from Phoenix, Arizona to Forks, a small town in the Olympic Peninsula of northwest Washington state, she thought that her life would be miserable until she graduated from high school. Forks is not unfamiliar to Bella, as she was born there. After her parents divorced and she followed her mother, Renée, to Phoenix, Bella often returned to Forks to spend summers with her father, Police Chief Charlie Swan. Now, however, because of her mother's new marriage, Bella is moving in with her father full time.
Adjusting to her new school is not as much as a problem as Bella thought. In fact, the very things that made her unpopular in sunny Phoenix, makes her attractive to the high school kids in this remote rural area. Bella makes, or rather tolerates friends, but then she sees him, Edward Cullen. This pale-skinned Adonis, so beautiful and graceful that he seems supernatural, captures Bella's attention and imagination. She can't stop thinking about him, but he's distant, even hostile towards her. Then, Edward saves Bella's life in an act of bravery that is as shocking as it is impossible. What is Edward Cullen, and why does he make Bella feel so madly in love and out of sorts that she can't seem to live without him?
THE LOWDOWN: Since its debut in October 2005, Twilight, the young adult (YA), fantasy, romance novel by author Stephenie Meyer, has been a favorite with teen female readers. Twilight spawned three follow ups (with the four books forming The Twilight Saga) and recently became a hit movie. I am of the mind that novels that are hugely popular and that also spawn a devoted following or fan base might actually be quite good, although many pop novels are really trash. Twilight, however, is a damn good read.
The books strength comes from two strong elements: strong characters (especially the leads) and a deeply seductive romance. Bella and Edward are strong individual characters, but as a pair, they are magic.
Bella comes across as a modern goth-type girl, more stubborn and individualistic than sullen, but she has a romantic's heart and a generous spirit. She doesn't dislike people so much as she prefers her solitude. Simply put, Edward is chivalrous. Loyal and brave, his protective way towards Bella may seem odd in this era of the independent woman. On the other hand, it is also easy to see why young women would be attracted to the character of Edward, especially in an era in which young men consider loutish, self-centered behavior to be cool.
How does an author bring the girl who loves solitude and the boy who seems to be a gentlemanly hero from a 19th century romance novel together? This is where the seductive nature of Meyer's writing comes into play. Meyer builds so much of the text on dialogue, and all that talk gives the novel such warm colors. Even in the cold and damp setting of the evergreen forests of Washington, the way Meyer has Bella and Edward talk to each other brings a heat to the story that the reader feels. In his own way, Edward seduces Bella, and in turn, Bella seduces him in her own way. Their verbal play is searing, and although their conversations run for pages on end, it's attractive the way real conversation was in the movies, Before Sunrise and Before Sunset.
The majority of the last act becomes a twister of suspense running on the razor's edge. Still, the thrills exist in the context of this dangerous, but alluring romance that will have readers flipping pages.
POSSIBLE AUDIENCE: Readers who enjoy a well-written romantic novel, even a supernatural romance will like Twilight.
A-
Last Updated: January 24, 2022 - 11:00