Comics / Comic Reviews / DC Comics
The Plain Janes
By Leroy Douresseaux
June 8, 2007 - 07:02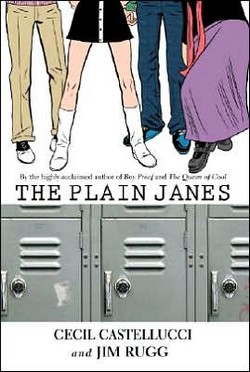 Thanks to barnesandnoble.com for the image.
The Plain Janes
by writer
Cecil Castellucci
and artist
Jim Rugg
is the first title from Minx, a DC Comics' imprint focusing on slim graphic novels that fit in the fiction publishing category, YA or "Young Adult."
The Plain Janes has as its lead character
Jane Beckles
, a lively teen girl, enjoying life in
Metro City
(a stand-in for New York City?), when tragedy strikes. Now fearful of living in the city, Jane's parents spirit her off to suburban safety in the form of the town of
Kent Waters
. Jane, still somewhat in shock, leaves behind her hip city friends for the strangeness of
Buzz Aldrin High
.
Jane's innate coolness and confidence attracts the attention of Buzz Aldrin's pretty girl clique and their leader
Cindy Sanchez
, but Jane spies another group of girls who might form the perfect tribe for her – three other girls named "Jane." There is
Jane
, the actor/comedian,
Jayne
, the pretty, smart girl and scientist wannabe, and
Polly Jane
, the athlete. Although the other Janes are at first reluctant, they eventually bond with Jane Beckles over pulling pranks. They form an "art attack" group and call themselves
P.L.A.I.N.
–
People Loving Art in Neighborhoods
.
The pranks (like putting wool caps on fire hydrants) are meant to introduce art to the stale suburbia of Kent Waters and to encourage creative expression. Instead, their guerilla art stunts create anger and hostility among the adults, especially Jane's mother, who is becoming more and more paranoid following the events that made the family move from Metro City.
The Lowdown:
Upon first glance, the teen characters in The Plain Janes might seem like stereotypes, and while each one is of a well-worn teen fiction type, there is, of course, a method to writer Cecil Castellucci's madness. Using such familiar characters allows the author a clear path to expressing ideas and themes. That the Janes and the other Buzz Aldrin students seem familiar helps the writer engage readers with the characters while she can use the overall story to delve deeper into such issues as acceptance, friendship, first love, fear, and self-determination.
Of course, the Janes and the student body come across as naïve. In spite of their personal fears and struggles, their optimism here is exceptionally refreshing in a world where even "family entertainment" is rife with innuendo and unimaginative cynicism. Of the many things, this book says, one is "the children, with their creativity and curiosity, are our future, so let's mortgage that future by teaching them fear, ignorance, and blind obedience and then, insisting that they learn that in place of hope and potential."
Rugg superbly captures all the nuances in mood and atmosphere in Castellucci's story. From the naked fear of Jane's mother and the bullying insistence of Officer Sanchez to "TheatreJane's" pretentious flair and "SportyJane's" tough, but smooth tomboyish persona, Rugg finds the unique accent within each of Castellucci's seemingly typecast characters. Rugg also nicely balances the light and dark elements of the setting and story.
For readers of:
Although geared towards female YA, anyone who likes "Freaks and Geeks" may very well like this. The Plain Janes is also a young cousin of Daniel Clowes' essential graphic novel,
Ghost World
, so some fans of alt-comix could have love for this. Although occasionally rough around the edges, this is a treat that left me wanting more.
A-
Last Updated: January 24, 2022 - 11:00