Jim Rugg Talks The Plain Janes
By Leroy Douresseaux
June 8, 2007 - 06:58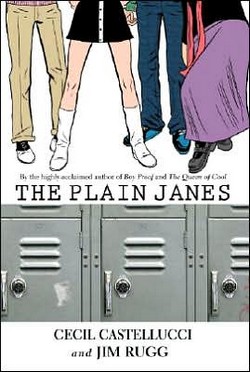 Thanks to barnesandnoble.com for the image.
Jim Rugg burst onto the indie comics scene a few years ago with the series, Street Angel, co-created with his creative partner Brian Maruca. Rugg has kept busy since then, but his latest big project is The Plain Janes. Written by Young Adult novelist, Cecil Castellucci (Boy Proof), The Plain Janes is the inaugural title in DC Comics' new imprint, Minx, which is geared towards producing graphic fiction for the female Young Adult audience. Jim answered a few questions for a Bin Q&A:
CBB: How did you become involved with this project and what if anything were you able to contribute to the story or the development of the concept?
RUGG: Shelly Bond [Minx editor] emailed me and asked me if I was interested in it. She sent me the proposal. Once I started working on it, I contributed character designs, but very little in terms of story.
CBB: Were you familiar with Cecil Castellucci's work and did you familiarize yourself with some it?
RUGG: As soon as I considered the project, I tracked down a copy of her first novel, Boy Proof, and read it. Her book had a greater influence on my decision than did the proposal. I'm not a fan of the pitch/proposal format. I don't think it's an effective tool for description purposes. But Boy Proof on the other hand was excellent. I'm not sure I've ever read a young adult novel before, and it was a just a lot of fun. I'm a big fan of genre work, and didn't realize how strong of a genre young adult fiction is.
CBB: What adjustments if any did you have to make to transition from Street Angel to The Plain Janes?
RUGG: I had to draw detailed breakdowns for the editor before I drew the actual pages. Grayscaling was different too. The other thing was just the time involved. With Street Angel, I had a pretty big cushion on deadlines. So I'd work very hard for a couple months then take a few weeks off and just be lazy. With the Janes, once I started, I kicked out a page a day for 6 months. Having a larger cast of characters was a bit different too. I like to compare the Janes to the X-Men, trying to juggle a number of characters in a scene is challenging.
CBB: You seem to be a natural with female characters. How did this happen?
RUGG: In high school, my art teacher criticized my inability to draw women. I guess that motivated me to try to draw women better. Now if I could only figure out perspective.

CBB: As I read this I've noticed you balance the story's darker elements (the bombing and the fear and worry of Jane's mother) with the lighter elements (the playfulness and creativity of the Janes). Was this a deliberate effort to keep the book from having a flat mood or single tone, for instance, making it all comedy or all teen angst?
RUGG: That balance would be from the writer and editor. I just draw what I'm given. From my point-of-view, I try to depict whatever atmosphere and emotion the characters go through. In the case of the bombing and Jane's mother's reaction, I try to suggest anxiety or fear, and likewise when they girls are running around having fun, I try to suggest that with their body language.
As a reader, I think Cecil does a good job of mixing moods and defying certain expectations when it comes to character interaction. I've read reviews that criticize the characterization of some of the Janes. And I understand where this criticism comes from. However, part of comics' language involves caricature and shorthand. I think Cecil does a great job of using visual cues, referencing pop cultural icons, mixing stereotypes with more fully developed characterizations, and generally surprising readers and holding their interests without resorting to gimmicks or illogical plot twists.
CBB: I'm still reading this book, and I'm already finding it to be absolutely wonderful. What is the feedback you're getting (if any) like?
RUGG: The feedback is quite positive. But it's very different than Street Angel. With Street Angel, I published my email address, had a PO Box, and went to a lot of comic book shows for promotion. As a result, I heard from a lot of readers. With PLAIN Janes, most of the feedback I see are reviews, which have been very supportive, but it's different than Street Angel. I'm going to Comicon this summer, and I hope to meet a lot of readers there and hear what they think about the book.
CBB: What does the future hold for you and will we see more work from you before the end of the calendar year?
RUGG: Here are some upcoming things to watch for. I did a 2-page comic for a VH1 show about 1977 that will air in July. Brian Maruca and I did a new Afrodisiac story for the next Meathaus book. That should be out before SPX. We also did a short story for Marvel that I'm psyched about. I'm halfway through drawing it, and I'm very happy with how it's turning out. If time permits, we plan to do another Afrodisiac story for an Image anthology. I'm still inking American Virgin every month over Becky Cloonan's beautiful pencils. And I'm working on another PLAIN Janes book, but that one won't be out this year.
Visit minxbooks.net
Last Updated: September 6, 2021 - 08:15