Comics / Comic Reviews / DC Comics
The Flintstones #4 comics review
By Leroy Douresseaux
October 23, 2016 - 21:38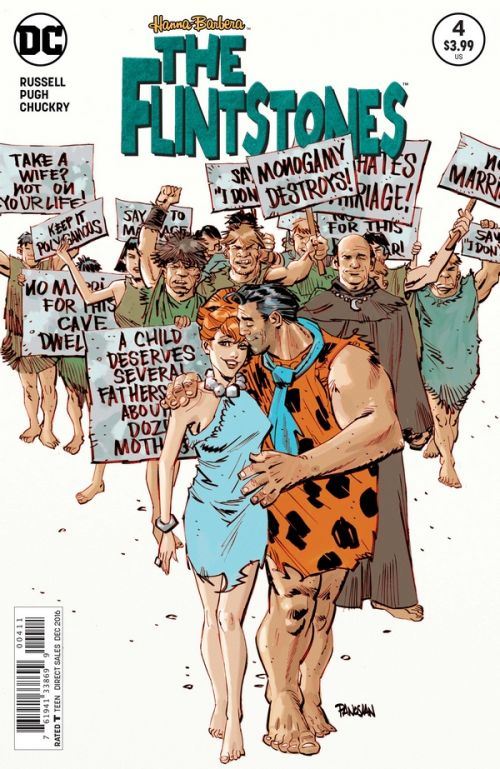 The Flintstones #4 cover image
Rated "T" for "Teen"

"Domestications"
The Flintstones is an animated, prime-time television series, produced by American animation studio, Hanna-Barbera Productions. When it debuted on ABC September 30, 1960, it was the first American animated prime-time TV series. A situation comedy, "The Flintstones" is an anachronistic and fantastic depiction of a working-class, Stone Age family, led by patriarch,
Fred Flintstone
, who has a wife,
Wilma
, and eventually a daughter,
Pebbles
.
The Flintstones juxtaposes what was then modern life (the late 1950s to mid-1960s) with a faux Stone Age setting. Modern technology (such as cars and home appliances) have fanciful Stone Age versions, which sometimes involve animals and creatures that did not live in the Stone Age (like dinosaurs). DC Comics has reinvented "The Flintstones" as part of its line of comic books that are reinvented and re-imagined versions of Hanna-Barber animated television series. Set 100,000 years ago, this new version of
The Flintstones
is written by
Mark Russell
; drawn by
Steve Pugh
, colored by
Chris Chuckry
, and lettered by
Dave Sharpe
.
The Flintstones

#4
("Domestications") opens 1,000 years before the age of The Flintstones, giving us a look at the early years of domestication of wildlife. Back to the present, Fred and Wilma attend a marriage retreat, where the good, the bad, and the ugly of monogamy and the matrimonial union are discussed. Meanwhile, in
Bedrock
proper, there is an uprising against this new unnatural domestic union called marriage.
THE LOWDOWN:
The inspiration for the 1960s TV series, "The Flintstones," is the 1950s television comedy, "The Honeymooners." I believe that the inspiration for The Flintstones comic book is the Emmy-winning cable drama series, "Mad Men" (2007-2015), at least to some extent. I can say that writer Mark Russell has made this comic book an unrelenting and savage satire of modern American life. For instance,
The Flintstones
#4 mocks and spoofs the ideas and notions surrounding the movement against gay people marrying with unmatched fury and truth. Russell punctures hypocrisy and contrived anti-LGBTQ dogma and doctrine so impressively that this comic book left me stunned.
Steve Pugh's art and graphical storytelling captures the blunt instrument and precision cutting tool of Russell satire and caustic wit. He layers gentle humor and mockery in every brushstroke. His graphics make the Russell-Pugh duo a creative team like no other. It seems that at least two of DC Comics' Hanna-Barbera series are among its best comic books.
POSSIBLE AUDIENCE:
Fans of The Flintstones and of the DCYou Prez comic book will want to try
The Flintstones
.
A
Rating: A /10
Last Updated: August 31, 2023 - 08:12