Comics / Comic Reviews / More Comics
The Almighties #0 (R Rated Variant Edition) comics review

By Leroy Douresseaux
June 6, 2016 - 11:51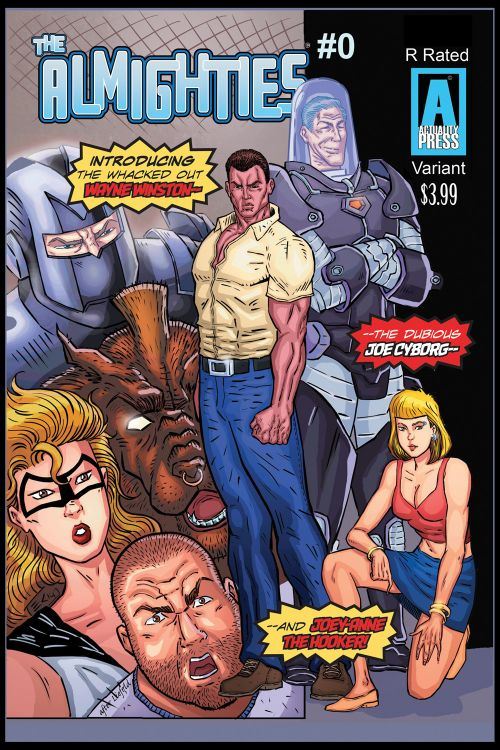 THE ALMIGHTIES #0 (R Rated Variant Edition) cover image
The Almighties
is a superhero comic book series published by Actuality Press. The book features characters mostly created by two individuals,
Sam Johnson
(who is also series editor) and
Mike Gagnon
. The Almighties is a superhero comedy, but is not a parody, although it takes plenty of digs at Marvel's Avengers film series.
The Almighties

#0
is written by Johnson and Gagnon with a group of pencillers, inkers, and colorists providing the art for various chapters. The story focuses on the machinations of
Joe Cyborg
, who has an office in what seems to be the White House. He wants to take the superhero team,
The Almighties
, and turn them into his own personal "strike force."
To that end, Joe interviews
Stefanos
, a member of The Almighties, about his teammates. So, are the werewolf,
Night Fang
; the Supergirl-like
Mrs. F
; the super-tech armored
Maxi-Tron
, the psychotic mercenary,
Mason
, and few others ready for prime time Joe Cyborg-style?
THE LOWDOWN:
Upon first glance,
The Almighties
#0 does not look impressive. The art is hit-or-miss; after all, the artist here are not masters of composition, at least not yet. These artists' graphical storytelling, however, is quite clear, which is surprisingly not the case with quite a few books published by Diamond Distributors' "premiere" publishers. The coloring is nice and makes the art seem to pop off the page. Of all the artists here,
Eleonora Kortsarz
is the standout. If a veteran comic book artist were to mentor her, she would be ready to draw for a major publisher in less than two years, easily.
The Almighties
is surprisingly funny. I say "surprisingly" because, at first glance, it does not look like a superhero comedy. For the most part, Johnson and Gagnon play the superheroes straight. The humor works because
The Almighties
works as a superhero comic, and at times, this story is even droll and witty – another surprise.
I guess that I'm trying to say that
The Almighties
#0 is more than it appears. Don't judge a comic book by its cover because this cover captures neither the story nor the spirit of this comic book. If the creators have the resources to keep this going, they might actually be onto something that could capture a steadily growing audience.
POSSIBLE AUDIENCE:
Fans of comic superhero comics will want to try
The Almighties
#0.
B
The Almighties #0 is Out Now and available at www.almightiesamass.com and www.comixology.com
Rating: B /10
Last Updated: September 6, 2021 - 08:15