Comics / Comic Reviews / More Comics
Man is Vox: Paingels (Expanded Edition) comics review
By Leroy Douresseaux
July 26, 2019 - 22:39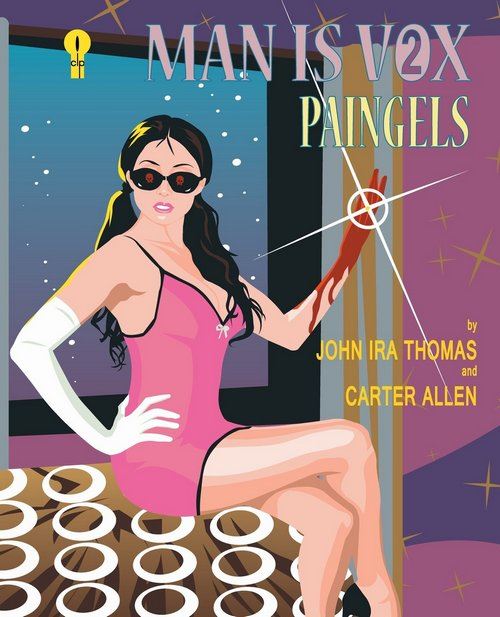 Man is Vox: Paingels Expanded Edition cover image
Man is Vox: Paingels
is a 2004 original graphic novel published by Candle Light Press (CLP) and created by writer
John Ira Thomas
and artist
Carter Allen
. Last year, CLP released an updated edition of the graphic novel,
Man is Vox: Paingels (Expanded Edition)
.
This is a kind of overview. Man is Vox: Paingels follows a man who is essentially a killer on the search for a psycho who kills some women. He abuses in terrible ways those women that he does not kill. The Fearsome Shade, Mr. Way, the Shotgun Bride, the Husband, Samdy Lockney, The Beacon, Insides, and Dilmus: they are all on or in the orbit "The Beacon."
Abortions; many Beacons; clothes make the man, and Sid S, the serial killer of children. Mr. Way and the Fearsome Shade have to put an end to the Beacon, but who are they really? Who are Mr. Way and the Fearsome Shade to confront the Beacon for his crimes, especially against Ms. Lockney?
THE LOWDOWN:
2015 was Candle Light Press' 20th anniversary. [In fact, there is a book celebrating that anniversary,
CLP20: Twenty Years of Candle Light Press
(http://candlelightpress.tumblr.com/clp20.htm), a book to which I have contributed a few notes.] Since then, CLP have been releasing new editions of a few of their early graphic novels, including Man is Vox: Barracudae, the Man is Vox OGN that precedes Paingels.
John Ira Thomas and Carter Allen tell Paingels via a Baskin-Robbins like palette of graphic styles and illustrative mediums (so to speak). Traditional color comic book art; traditional black and white art; a child's crayon drawings; charcoal; vector art; ink; finger puppet theater; 8-bit video game graphics; cut outs; torn pages; woodblock engraving-like art; and faux family photo album, among many.
When I first read Man is Vox: Paingels, I could not think of many points of references for my subsequent review of it. Fifteen years later, however, I think I have one. With surrealism on high and touches of Meshes of the Afternoon, Man is Vox: Paingels (Expanded Edition) is a trippy reading experience. Much of the narrative deals with what goes on in the human mind – the interior life and the mental experience. So Paingels makes me think of Noah Hawley's television series, "Legion" (FX). Paingels simply does not display the self-indulgence and narcissism, nor does it possess the lack of self-control and lack of self-awareness that can be brought on by having the kind of large budget that a major Hollywood studio can gift a "genius" showrunner.
Man is Vox: Paingels (Expanded Edition) is an adventure in original graphic novel reading. It is not really meant to be read in one sitting, which I certainly did not do. Some chapters, I read over a period of several weeks. Other chapters, I read in rapid succession. I have to be honest; Paingels is not my favorite Candle Light Press book by far. However, the characters are simply lovely, so much so that I want to engage Paingels just to read about them.
POSSIBLE AUDIENCE:
Readers looking for high-quality, independently published original graphic novels will find one in the spiffy new
Man is Vox: Paingels (Expanded Edition)
.
http://candlelightpress.tumblr.com/
https://www.facebook.com/candlelightpres/
B+
7 out of 10
Rating: 7 /10
Last Updated: January 24, 2022 - 11:00