Tail of the Moon: Volume 15
By Leroy Douresseaux
January 29, 2009 - 05:59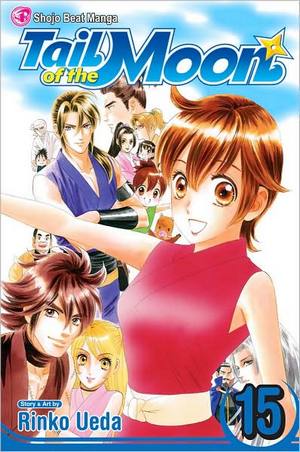 Tail of the Moon 15 cover image is courtesy of barnesandnoble.com.
Rated "T+" for "Older Teen"
Usagi is a bumbling female ninja-in-training. Her story is set in the Tenshō era of Japan (1573-1592) – the "Era of the Warring States." She is the granddaughter of Sandayu, the leader of a prestigious ninja village in southern Iga. Frustrated by Usagi's (also known as "Usa") lack of progress in her training to be a ninja, Sandayu sends his granddaughter off to the young ninja Lord Hattori Hanzo. Sandayu hopes that Hanzo will take Usa as his wife and make lots of ninja babies, but Lord Hanzo wants a wife who is a ninja more than he wants babies.
Tail of the Moon, Vol. 15 finds Usa trying to stop Hanzo, now an assassin hiding in the shadows and flitting across the countryside, from killing Lord Oda Nobunaga, the ninja-hating lord who ordered the destruction of Usa and Hanzo's village, Iga. Hanzo, however, isn't the only one seeking vengeance against Nobunaga. Stripped of his property by Nobunaga and grieving the suicide of his wife, one of Nobunaga's retainers, Mitsuhide Akechi, launches an attack on Nobunaga's fortress, Azuchi Castle that might cost them all their lives.
THE LOWDOWN: This is the final volume (tankoubon) collecting Rinko Ueda's wonderful and highly entertaining romantic ninja adventure, and I'm quite sad to see it end. Comparing it to historical fiction and sweeping epics like the film, The Last Samurai (2003), or James Clavell's novel, Shogun, is not inaccurate. While Tail of the Moon certainly follows in the tradition of the historical, romantic adventures that shoujo manga does so well, its tale of a heroine whose life is caught up in the circumstances of the time in which she lives is not so far off in tone to Gone with the Wind.
Tail of the Moon is beautifully drawn and skillfully written, seamlessly coming together as a whole graphic narrative that feels good to read and engages the imagination. At the end of the story, Ueda gives readers a glance into the near future of her characters, as well as offering a delightful coda, the two-part "Promise of the Moon." I won't soon forget this series.
POSSIBLE AUDIENCE: Fans of the historical titles in VIZ Media's "Shojo Beat" line will likely love them some Tail of the Moon.
A+
Last Updated: January 24, 2022 - 11:00