Tail of the Moon: Volume 14
By Leroy Douresseaux
Nov 30, 2008 - 13:11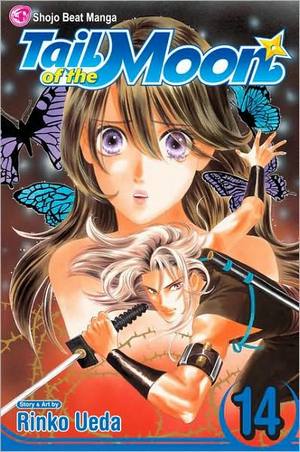 Tail of the Moon 14 cover image courtesy of barnesandnoble.com.
Rated "T+" for "Older Teen"
Usagi is a bumbling female ninja-in-training living in the Tenshō era of Japan (1573-1592). She is the granddaughter of Sandayu, the leader of a prestigious ninja village in southern Iga. Frustrated by Usagi's (also known as "Usa") lack of progress in learning to be a ninja, Sandayu sends his granddaughter off to the young ninja Lord Hattori Hanzo, in hopes that Hanzo will take her as his wife and make lots of ninja babies. However, Lord Hanzo wants a wife who is a ninja more than he wants babies.
In Tail of the Moon, Vol. 14, the complications in Usagi's life not only continue, they multiply. A year after finding Iga destroyed, Usagi works as an herbalist for Lord Tokugawa Ieyasu at Okazaki Castle. Usagi must decide if she should marry her friend Yukimaru, who deeply lovers her, but maybe she still grieves too much for Hanzo to know her own heart. Then, Usagi follows Ieyasu to Azuchi, the stronghold of Lord Oda Nobunaga, the ninja-hating lord whose army destroyed Iga. The trip leads to a startling confrontation, a surprising new job, and the return of an old friend.
THE LOWDOWN: Historical epic, romantic ninja adventure, and coming of age story: the ambitions of Tail of the Moon sometime seem impossibly large for a mere manga, but manga-ka Rinko Ueda is totally in control of her seductive and sweeping epic. Her beautiful art never distracts from the story. It makes the journey on which Tail of the Moon takes the reader that much more of an amazing experience. This story is so well put together that it has me flipping through the pages like a madman.
POSSIBLE AUDIENCE: Fans of "Shojo Beat" titles will like this, but I bet James Clavell fans would also like Tail of the Moon.
A
Last Updated: Jun 26, 2018 - 9:28