Tail of the Moon: Volume 10
By Leroy Douresseaux
Apr 5, 2008 - 14:35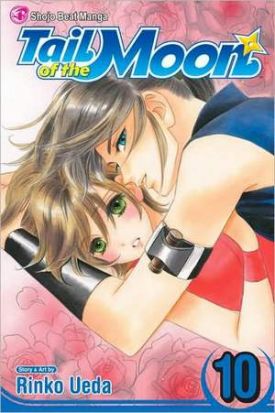 Thanks to barnesandnoble.com for the image.
Set in the Tenshō era of Japan (1573-1592), the shojo manga (girls' comics),
Tail of the Moon
by
Rinko Ueda
, centers around Usagi, a bumbling ninja-in-training. Usagi or "
Usa
" is the granddaughter of the leader of a prestigious ninja village in southern Iga.
Sandayu
, frustrated by his granddaughter's lack of progress in learning to be a ninja, sends Usa off to young ninja
Lord Hattori Hanzo
, in hopes that he will take her as his wife and make lots of ninja babies. However, Lord Hanzo doesn't want babies; he wants a wife who is a ninja.
As Tail of the Moon, Vol. 10 opens, Usa has clumsily revealed to Mori Ranmaru that her childhood friend Kame is a ninja spy pretending to be in love with Ranmaru. Ranmaru is the male page of Lord Oda Nobunaga, a feudal lord who hates ninja and hunts them. Now, Usa and Kame, whom Ranmaru gravely wounds during a struggle, are prisoners in an unknown location. Usa realizes that she has to get Kame to medical help, and to do that she needs the keys to the prison in which Ranmaru keeps them. That means she will have to seduce Ranmaru, who lusts after her, but is Usa really willing to give up her innocence which she pledged to Hanzo?
THE LOWDOWN: Drama, romance, romantic adventure: Tail of the Moon covers them quite well and blends them into what VIZ bills as a "romantic ninja adventure." Rinko Ueda certainly uses some of the tropes of which readers are familiar from shojo drama – lovely illustrated art with flowery patterns in the background and doe-eyed girls pining away for their dream man. But Tail of the Moon really isn't just another romance manga.
There is intrigue, dashing male heroes, handsomely dark villains, light fantasy, comedy; it's almost like 19th century pop novel. What makes Tail of the Moon exceptional is that it absorbs the feisty, resolute spirit of its star Usagi. Determined to be successful when others think she can't be, and Tail of the Moon proves to be more than it's supposed to be.
POSSIBLE AUDIENCE: James Clavell meets Joss Whedon.
A
Last Updated: Jun 26, 2018 - 9:28