Spell of Desire: Volume 4 manga review
By Leroy Douresseaux
May 6, 2015 - 22:51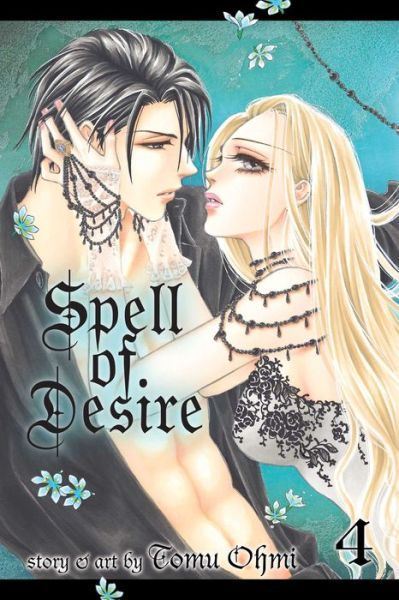 Spell of Desire Volume 4 cover image is courtesy of barnesandnoble.com.
Follow me on
Twitter
.
Rated "M" for "Mature"
Kaoruko "Koko" Mochizuki
, a young woman, runs the
Moon Witch Herb Shop
in a small seaside town in Japan. One day, a mysterious man dressed in black walks into the herb shop and introduces himself as
Kaname Hibiki
. He tells Kaoruko that she is actually the daughter of the
Witch Queen
and that he has arrived to help her control the awakening power within her.
As
Spell of Desire

, Vol. 4
(Chapters 16 to 20) opens, Kaoruko and Kaname remain in the headquarters of the
Black Witches Coven
. Now, Kaoruko finds herself caught between the ambitions of two powerful Black Witches:
Sylvia
, the current leader of the coven, and
Isandra
, one of the coven's top-ranking witches.
Isandra opposes giving the Witch Queen, Kaoruko's mother, too much power. She offers to help Kaoruko better know her own powers, but the young woman wonders if Isandra really means to help her or herself. Plus, Kaoruko notices a change in Kaname.
[This volume includes a bonus story.]
THE LOWDOWN:
One would not be necessarily mistaken to think of the
Spell of Desire
manga as a bodice-ripper. Kaname's magic and Kaoruko's power come together to create a potent romance. Sometimes, it seems as if the manga pulsates every time these two characters come together. They can't get nekkid fast enough.
With the chapters that compose
Spell of Desire Volume 4
, creator
Tomu Ohmi
presents two witches, Sylvia and Isandra, who actually bring something to the narrative. They are more than just cloaked figures moving through the story. As much as I like
Spell of Desire
, I do want more involved supporting characters. After all, that will make both the spell and the desire stronger...
POSSIBLE AUDIENCE:
Fans of Tomu Ohmi will want to fall under her
Spell of Desire
.
Last Updated: August 31, 2023 - 08:12