Spell of Desire: Volume 2 manga review
By Leroy Douresseaux
November 7, 2014 - 18:27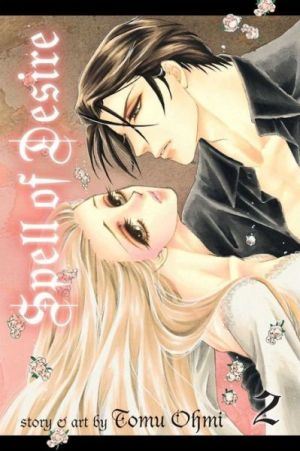 Spell of Desire Volume 2 cover image is courtesy of barnesandnoble.com.
Follow me on
Twitter
.
Rated "M" for "Mature"
Kaoruko "Koko" Mochizuki
owns and operates the
Moon Witch Herb Shop
in a small seaside town in Japan. One day, a mysterious man dressed in black walks into the herb shop and introduces himself as
Kaname Hibiki
. He tells Kaoruko that she is actually the daughter of the
Witch Queen
and that he has arrived to help her control the awakening power within her.
As
Spell of Desire

, Vol. 2
(Chapters 6 to 10) opens, Kaoruko struggles to accept the truth: she is drawn to the handsome Kaname. His kisses seem to be the only thing that can reign in the power within her that occasionally breaks free and ensnares others. But does Kaname really care about her or is he just protecting the power of her mother, the Witch Queen, which now resides in Kaoruko?
Just how potent is the power her mother transferred to Kaoruko? A visit from
Yuichiro "Yu" Hirose
, Kaoruko's childhood friend, will test that. Plus, members of the
Black Witches Coven
start to pay attention...
THE LOWDOWN:
The first volume of the
Spell of Desire
manga did not cast a spell on me. However,
Spell of Desire Volume 2
casts an entrancing spell; I think I'm now hooked on the series. Creator
Tomu Ohmi
(
Midnight Secretary
) seems more honest about her narrative with the chapters contained in Vol. 2.
Spell of Desire
is not just about magic and witches; it is also about longing and desire. Kaoruko is burning up. A cold shower would be at the mercy of her overheated body and turn to mere steam. I have no doubt that the sexually frustrated Kaname sometimes gets an erection that could knock down a siege wall. Before I get overheated, let me sign off by declaring that I am already longing for Vol. 3.
POSSIBLE AUDIENCE:
Fans of Tomu Ohmi may want to try
Spell of Desire
.
Rating: A /10
Last Updated: August 31, 2023 - 08:12