07-Ghost: Volume 4 manga review
By Leroy Douresseaux
May 17, 2013 - 15:17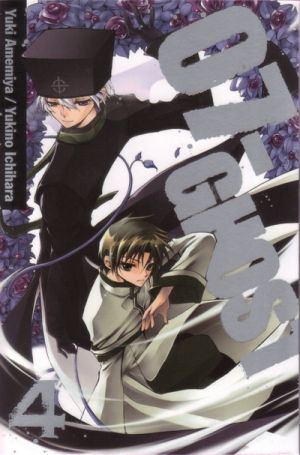 07-Ghost Volume 4 cover image
Rated "T" for "Teen"
The Barsburg Empire destroyed its rival, Raggs Kingdom. Teito Klein, a former slave and orphan, discovers that his father was the King of Raggs. Teito is a cadet at the Barsburg Empire Military Academy, but he escapes to the Barsburg Church of District 7. With three bishops and seven legendary ghosts to guide his destiny, Teito hopes to use the divine magical jewel, the Eye of Mikael, to uncover the secrets of the murky past.
As 07-Ghost, Vol. 4 (Chapters 18 to 23) opens, Bishop Frau is cleared of the charges against him. That happens just in time for Frau to protect Teito from an attack by Chief of Staff Ayanami of the Imperial Army. Ayanami does not give up easily, especially with his Black Hawks by his side.
Later, Bishop Lance arrives at the Barsburg Church. Who is Bishop Lance? He is the head proctor of the bishop's exam. Now, Teito and his friend and partner, Hakuren Oak, take the next big step to becoming full bishops.
THE LOWDOWN: With each volume of the 07-Ghost manga, the series becomes more polished. 07-Ghost is the debut work of a creative team and the early chapters were rough. The action wasn't clear, and the characters were not very inviting. Conflict and motivation was murky, but with Vol. 3, everything became clearer. I warmed to the plucky and determined orphan, Teito Klein.
07-Ghost Volume 4 is, thematically, about the bonds of friendship, trust, and character. Wherever this series is going, it seems that Teito Klein will not be going alone. There is a cast of colorful characters to accompany him. Also, the mystery of this series is about his powers and their extent, and it is an intriguing mystery – both for the characters and for the readers.
POSSIBLE AUDIENCE: Readers looking for shonen military fantasy will want to try 07-Ghost.
Rating: B+ /10
Last Updated: August 31, 2023 - 08:12