Saturn Apartments: Volume 7 manga review
By Leroy Douresseaux
May 22, 2013 - 17:28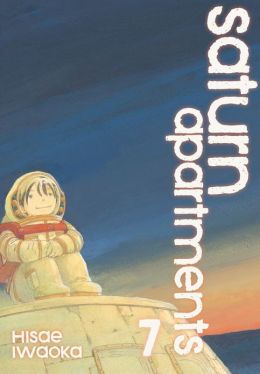 Saturn Apartments Volume 7 cover image is courtesy of barnesandnoble.com.
Rated "T" for "Teen"
The manga, Saturn Apartments, is set in the Ring System. This is a gigantic structure that forms a ring around the Earth and is located in the stratosphere, 35 kilometers above the surface. The Ring System is a huge apartment complex where people live because humans abandoned Earth, which is now a nature preserve.
Even this kind of apartment complex needs window washers. This is the story of the newest window washer, Mitsu. He cleans windows on the upper levels, just as his father did before he mysteriously fell from his tether.
Saturn Apartments, Vol. 7 (Chapter 54 to Final Chapter) is the final volume of the series. As Vol. 7 opens, the residents of the lower levels try to put out a widespread fire that was caused by a power plant explosion. Some of the people in the lower levels, however, blame the fire on those who love in the upper levels. Unsafe living conditions and unrest ravage the lower levels. Now, fighting amongst the different levels seems imminent.
Meanwhile, there is hope. Manta Sohta, a former systems manager, and Chonta Nishimaru put the final touches on Argo, the capsule device that will (hopefully) carry Mitsu down to the surface of the Earth. What will he find there? Will the young window washer even make it to the surface, as two figures plot to sabotage the descent?
THE LOWDOWN: The Saturn Apartments manga comes to an end with a final graphic novel that is 70+ pages larger than the other volumes. Without filling this review with spoilers, I can say that Saturn Apartments Volume 7 is open-ended. We leave the characters with hope and with a more than reasonable chance of a brighter future.
This final volume also has violence and the threat of violence, both of which were absent for the majority of the series. Just the threat of harm to these characters is what made me realize how much I like many of them.
The art of Saturn Apartments creator Hisae Iwaoka reminds me of 1970s and 80s era Moebius and of Kozue Amano's art in the manga, Aqua. Saturn Apartments, however, is its own unique graphical language. That's another reason I will miss this series, but hopefully, it will stay in-print for new readers.
POSSIBLE AUDIENCE: Readers looking for juvenile science fiction will find a good one in the VIZ Signature-IKKI Comix title, Saturn Apartments.
Rating: A- /10
Last Updated: August 31, 2023 - 08:12