Saturn Apartments: Volume 4
By Leroy Douresseaux
November 15, 2011 - 09:18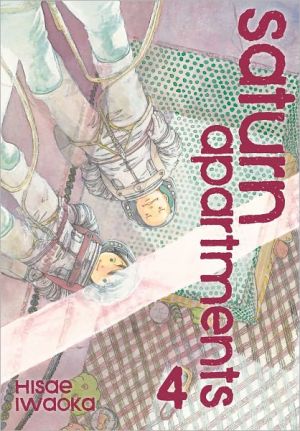 Saturn Apartments Volume 4 cover image is courtesy of barnesandnoble.com.
Rated "T" for "Teen"
In the future, humanity abandons Earth and turns it into a nature preserve. People live in the Ring System, a gigantic structure that forms a ring around the Earth in the stratosphere, 35 kilometers above the surface. The Ring System is a huge apartment complex, and even this kind of apartment complex needs window washers. This is the story of the newest window washer, Mitsu.
Saturn Apartments, Vol. 4 finds one of Mitsu's coworkers, Mr. Kageyama, forced to choose between his job washing windows, which he loves, and his health. Meanwhile, Kayo Sohta and Chonta Nishimaru continue their plan to build a device that can descend to Earth (a crime). Meanwhile, a peace officer moves next door to Sohta's apartment. Also, meet Yushima, the newest window washer.
THE LOWDOWN: I have mentioned in earlier reviews that the drawing style of Saturn Apartment creator Hisae Iwaoka reminds me of 1970s and 80s era Moebius and also of Kozue Amano's graphic storytelling in the manga, Aqua. It still does; this is some of the prettiest comic book art being publishing on the American market.
The series' usually has a sense of wonder and discovery and mystery about it, and there is a little of that in this volume. However, the chapters here often read like a script or storyboard for a movie, specifically an indie character drama. Vol. 4 gives new readers a chance to discover the characters, and regular readers a chance to get to know them better. Plus, a few new characters appear and the plot thickens. I'm enjoying this series, and Saturn Apartments seems like a nice place to be.
POSSIBLE AUDIENCE: Readers looking for juvenile science fiction will find a good one in Saturn Apartments.
B+
Last Updated: August 31, 2023 - 08:12